Broadcast News
26/04/2022
Gravity Media Further Strengthens Motorsport Credentials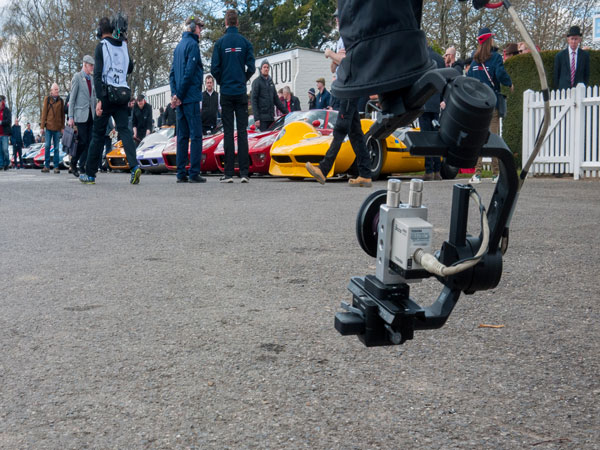 Gravity Media have further strengthened their motorsport credentials with the announcement of new world class talent, welcoming to the team experienced Executive Producer Martin Turner and former Formula 1, Formula E and Le Mans Driver, Bruno Senna, as a Motorsport Ambassador.
The news follows the recent high-profile announcement of Gravity Media's five-year deal to provide end-to-end production broadcast for the Goodwood Season of motorsport events. Hosted by The Duke of Richmond at the Goodwood Estate, the Goodwood Season is firmly established in the English sporting and social calendar. As part of the contract, Gravity Media have been appointed to broadcast three motorsport events – the Members' Meeting presented by Audrain Motorsport (which took place on April 9th – 10th), the Festival of Speed presented by Mastercard (June 23rd – 26th) and the Goodwood Revival (September 16th – 18th).
Both Turner and Senna have been heavily involved in the Goodwood project, from the initial pitch stage through to live delivery of the first event, the 79th Members' Meeting, earlier this month.
With more than 30 years of live production and directing experience, and having led the creation of the first ever dedicated Formula 1 channel at Sky Sports, Turner remains one of the industry's leading production minds in motorsport. Alongside his role as Head of Broadcast for the Professional Triathletes Organisation, he will work with Gravity Media as an executive producer for motorsport projects.
Turner's experience and wealth of contacts will help to both shape the editorial direction of programming and build highly-skilled production teams for Goodwood and future projects.
Senna, currently a brand ambassador and factory driver for McLaren Racing, provides a driver's perspective as Gravity Media's Motorsport Ambassador, working closely with the business development and production teams to offer unique insights as to how motorsport programming can evolve.
He was also an important member of the on-screen presentation team at the Members' Meeting, joining the live ITV programming and offering a behind-the-scenes perspective as he drove his legendary uncle Ayrton Senna's 1990 V10 McLaren MP4/5 around the Goodwood Motor Circuit as part of a wider Formula 1 demonstration.
The Gravity Media motorsport offering has been further bolstered with Turner and Senna's arrivals alongside the Goodwood contract win, which follows on from the motorsport pedigree of delivering the ongoing broadcast of Formula 1 highlights, Supercars and TCR Australia.
With the Gravity Media speciality cameras team ensuring innovation on track, live onboard camera systems and on-helmet capture solutions, the Gravity Media team ensures a unique driver and roadside experience unlike any other for broadcasters, production companies and live event organisers.
gravitymedia.com
Top Related Stories
Click here for the latest broadcast news stories.