Broadcast News
30/11/2021
NUGEN Audio Shines Spotlight On Its 3D-Compatible Convolution Reverb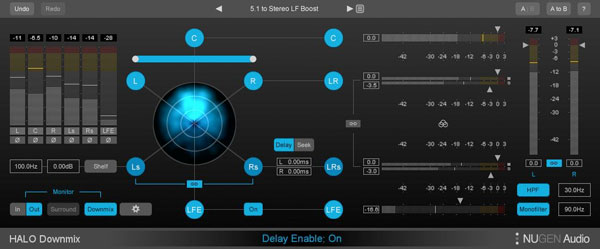 NUGEN Audio is shining a spotlight on its groundbreaking 3D-compatible convolution reverb, Paragon, for the broadcast/film audio market.
Offering full control of the decay, room size and brightness via state-of-the-art re-synthesis modelled on 3D recordings of real spaces, Paragon provides an unprecedented level of tweak-ability, with zero time-stretching―meaning no artifacts. The company is also calling attention to the latest updates for its Halo Downmix plug-in, which now increases the software's compatibility to allow for greater flexibility and collaboration across a broad spectrum of project types.
Using state-of-the-art technology developed alongside the University of York's Dr. Jez Wells, Paragon features spectral analysis and precise EQ of the Impulse Responses (IR), which are analyzed, decomposed and re-synthesized to create new authentic spaces. This ensures a small digital footprint for the IR library and makes it possible to configure limitless combinations of spaces with just a few adjustments to the settings. Further, it features individually configurable crosstalk per channel; unique technology for re-synthesis of authentic IRs, HPF and LPF per channel; and switchable LFE.
While Paragon has been at the forefront of NUGEN's initiatives during the pandemic, the company has also focused on updating several of its products. In the broadcast/film world, this included Halo Downmix, which now has a broadened channel count support to address less common output formats. With this update, Halo Downmix is capable of downmixing from 7.1 and 5.1 to any of the following configurations: 7.0, 6.1, 6.0, 5.1, 5.0 and 4.0, as well as LCR and stereo. The optional 3D extension also supports downmixing from 7.1.2.
nugenaudio.com
Top Related Stories
Click here for the latest broadcast news stories.