Broadcast News
25/11/2021
Comica Audio Launches BoomX-D PRO Wireless Mic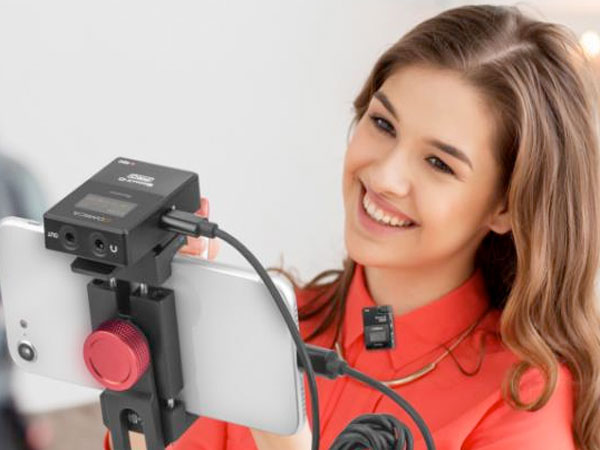 Comica Audio has launched the BoomX-D PRO mini 2.4G dual-channel on-board recording wireless microphone with a long working distance of 100m (328 feet) specifically made for vloggers, Youtubers, cinematographers, and filmmakers.
Based on the popular BoomX-D, the BoomX-D PRO boasts new professional features at a low price, including on-board recording with 8GB of internal Memory, an essential safety channel to record at -6dB, high speed transmission, and digital and analog output modes.
The BoomX-D Pro wireless mic provides high quality sound for a wide variety of diversified video applications, including daily video shooting, movies/documentaries, content creation, interviews, broadcasting, and live streaming for Facebook, Instagram, TikTok, YouTube. Mini-sized, portable, and available in white or black, the mic is universal for use with cameras, smartphones, and computers.
Features:
• 2.4G digital dual-channel wireless microphone with global free frequency: mini-sized, portable, high-quality professional wireless microphone.
• 48Khz/16Bit Audio Recording, Intelligent De-noise: high sampling rate for better pick up of high and low frequency audio signals and high sound reproduction.
• Supports On-board Recording with 8GB Internal Memory: built-in 8GB memory for no dropouts or audio issues - one button start and stop.
• Supports High-speed Transmission and Copy: files can be transmitted via the transmitter's USB-C interface.
• Supports Digital and Analog Output Modes, Universal for Cameras, Smartphones, and Computers: automatically identifies device - compatibility with 3.5mm and USB interface devices.
• Safety Channel for Ultimate Post-production Flexibility: records a second track at -6dB to avoid peak audio and invalid recordings.
• Visual Power, Audio Dynamic Monitor, and Other Display Functions: clear and convenient, easy to monitor and ensure work status.
• M/S Switch, Real-time Audio Monitor: choose different output modes according to the environment.
• Two Input Modes for Internal and External Mic: flexible use with input modes for different environments.
• RF Technology, Auto Frequency Adjustment, Stable Transmission: auto frequency adjusted for various situations.
• Low Latency < 20ms -Working Range Up to 100m (Open Area): optimal transmission working range for smooth recordings.
• Compact Design with Multi-function Belt Clip: portable and convenient.
www.comica-audio.com
Top Related Stories
Click here for the latest broadcast news stories.