Broadcast News
15/11/2021
Digital Nirvana's MetadataIQ Wins Prestigious Award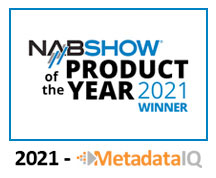 Digital Nirvana has announced that its MetadataIQ has won the NAB Product of the Year Award 2021 in the Delivery Category for Artificial Intelligence and Machine Learning. This official awards program recognizes the most significant and promising new products and technologies showcased by corporate partners of NAB Show.
MetadataIQ is a SaaS-based offering from Digital Nirvana that automates the generation of speech-to-text and video intelligence metadata, increasing the efficiency of production, preproduction, and live content creation services for Avid PAM/MAM users.
NAB Show Product of the Year Award Winners were selected by a panel of industry experts in 16 categories and announced in a live awards ceremony on NAB Amplify on Nov. 3. To be eligible for an award, nominated products had to come from companies scheduled to exhibit in either the 2020 or 2021 NAB Show and are delivered within the 2021 calendar year.
"Nominees like Digital Nirvana are revolutionizing the way people experience media and entertainment," said NAB Executive Vice President of Conventions and Business Operations Chris Brown. "The 2021 NAB Show Product of the Year Awards highlight the best of what's new and celebrates the breakthroughs and advancements within the content industry."
"MetadataIQ is the first platform to offer on-premises transcoding and intelligent extraction of audio files to generate speech-to-text transcripts," said Hiren Hindocha, Digital Nirvana CEO. "We are gratified that NAB recognized MetadataIQ for its innovative approach to simplifying and automating metadata generation for Avid assets."
MetadataIQ is a new metadata automation tool for content producers using the Avid media platform. A secure and scalable SaaS solution, MetadataIQ ensures that generating and ingesting pertinent metadata as timecoded markers into Avid is 100% automated. Operators have the option of sending transcripts to Digital Nirvana's processing centers for high-quality, human-curated output, which is returned within Avid MediaCentral (formerly Interplay).
www.digital-nirvana.com
Top Related Stories
Click here for the latest broadcast news stories.