Broadcast News
11/11/2021
Rakuten TV Expands Content Offering In The UK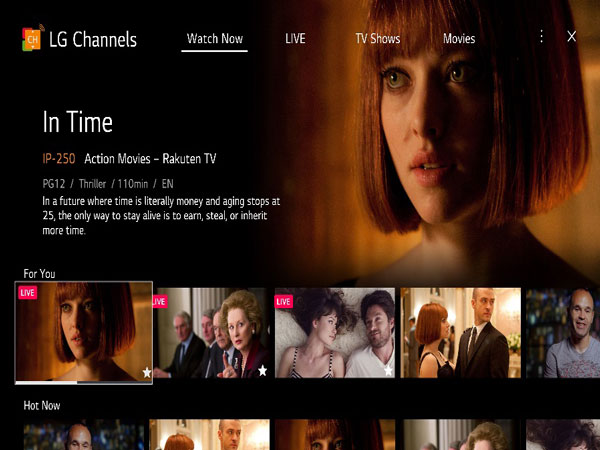 Rakuten TV has expanded its content offering in the UK with the rollout of five channels on the free premium content streaming service from LG Electronics, LG Channels, which offers an enhanced viewing experience for Smart TV customers.
CNN, Rakuten Stories, Comedy Movies, Action Movies and Drama Movies are available to enjoy on compatible Smart TVs, offering the best selection of localised content offering in each category.
The launch reinforces the content proposal that Rakuten TV offers via LG channels, bringing a total of 23 unique channels in the main European markets. Rakuten TV themed channels, Comedy, Action, Drama and Rakuten Stories are available with localised content in Spain, Germany, Italy, France and now also in the UK.
In addition to Rakuten TV's own curated content, the platform has reached an agreement with LG Electronics to expand available content by including new live streaming channels from third parties. Thanks to Rakuten TV, LG Channels now feature CNN in Germany and the UK, and ¡HOLA! is available in the service in Spain.
This alliance is an important step forward in consolidating the partnership with LG Electronics, which, in addition to content, also focuses on service enhancements, such as the integration of the Rakuten TV branded hot key on the latest LG Magic Remote of LG Smart TVs.
This launch enhances the opportunities for advertisers through Rakuten TV's AVOD service, increasing the advertising inventory available as well as reaching capabilities to connect with more audiences. Rakuten TV is part of Rakuten Advertising's portfolio of advertising solutions to bring high impact ad experiences. Leveraging extensive first-party data and premium content, via Rakuten TV, brands will benefit from unique discoverability, plus the potential of reaching more than 90 million households across Europe (through on-demand and linear programming).
The new channels are accessible for FREE on compatible LG Smart TVs and can be easily launched with a single click through the hot key on LG Magic Remote.
rakuten.tv
Top Related Stories
Click here for the latest broadcast news stories.