Broadcast News
24/09/2021
Comica Audio Launches VDLive10 Line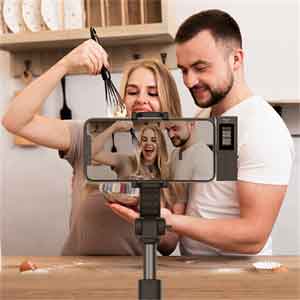 Comica Audio has launched the VDLive10 line of versatile high quality 2.4GHz wireless USB-A/USB-C.
Lightning, and 3.5mm Microphones for shooting video and live streaming with smartphones, cameras, computers and other devices. The VDLive10 line includes 2 lightweight models: the VDLive10 USB (for USB-A/USB-C) and VDLive10 MI (for Lightning). Both models also support 3.5mm output for cameras or smartphones. The wireless mics shoot live and recorded video, including music, interviews, YouTube and Instagram videos, and Facebook live, TikTok and Snapchat posts, Zoom and Skype business meetings, online teaching, and training live streams and webinars with high quality stereo audio support.
VDLive10 mics are dual-channel 2.4G wireless microphones that feature clear recordings, stereo modes, and switchable Simplex/Duplex transmission with two output modes for 3.5mm analog and USB/Lightning digital. The mics support Two-way Monitoring and Interaction to monitor audio of the transmitter and receiver. Compatible with a wide variety of smartphones, cameras, computers, and other devices, the VDLive10 line offers Intelligent Noise Reduction and a working distance of up to 98 feet (30m) for stable transmission at all times. The IPS Screen provides intuitive operation and usage with real-time monitoring of volume, audio dynamics, and output modes with an internal and external mic and a low latency at <20ms with stable transmission.
Comica Audio chose 2.4GHz transmission over Bluetooth because of its superiority in audio quality, live streaming, and social media apps. Bluetooth is not compatible with live streaming/social media; does not support high quality sound and creates a confusing audio delay. In addition, Bluetooth is not compatible with dual-channel transmission; is not plug-and-play and also has a delay in connection time. Therefore, 2.4GHz transmission is an overall superior choice for live streaming audio.
www.comica-audio.com
Top Related Stories
Click here for the latest broadcast news stories.