Broadcast News
26/08/2021
Cinevideo 4K OB Van Uses Lawo VSM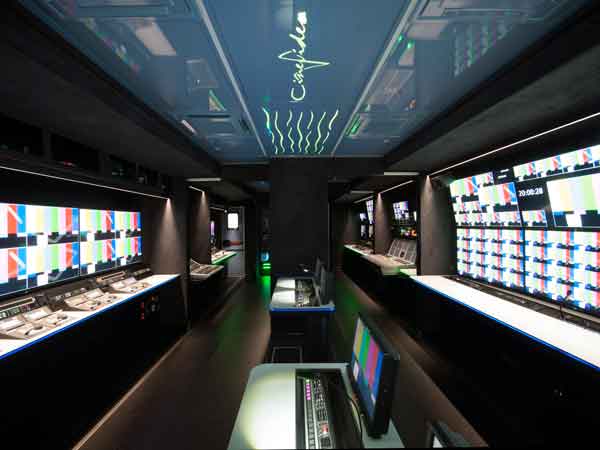 Cinevideo's newest OB van, a 20-camera 4K OB Van, based on 12G SDI technology, uses Lawo's VSM Broadcast Control System for overall management and operation in combination with a set of software and hardware panels as well as several GPIO units.
Project management, installation and commissioning was carried out by ARET Video and Audio Engineering, who for years has been a trusted system integrator for Cinevideo projects, a serial user of VSM broadcast control.
The new truck of Pescara-based Cinevideo, one of the largest Italian production companies, has designed their new Waves 12G OB truck by following the same layout and configuration as its Dolphin 7.0 vehicle. This makes Cinevideo the owner of two UHD HDR OBs. ARET video and audio engineering managed both the build and system integration of Waves 12G, which is designed to work with Dolphin 7.0 at all levels – audio, video and intercom – to increase the potential on productions where two main control rooms and two backups are needed.
Waves 12G is a 14-meter, three-axle trailer equipped with double expansion, which creates a work surface of about 60 square meters in operational mode. To be able to deal with multiple events at the same time, it provides three separate entrances for technical and artistic staff: Technical area, Main production room and Secondary production room.
"This not my first VSM system and, when we started the project, I had no doubt that Waves would have had its own VSM: when systems get complex, it allows you an integrated control of all the equipment," explained Andrea Buonomo, Cinevideo's Executive Sales Manager. He continued: "It is stable and reliable, and I love the way it helps us solving complex configuration problems within the reach of your fingertip. It is easy and friendly, and we learnt how to customize it, so we are quite independent in our configurations as well."
Buonomo proudly added: "The technological heart of the new Waves 12G is the most advanced the market can offer today. It is entirely made to support current processes in 4K and even beyond in the future, thanks to 12G SDI; it is a no-compromise realization. We have chosen VSM also for our new Waves truck as we have experienced with the Dolphin how it helps us optimizing our productions, as a full 12G SDI workflow will make things as easy as 3G SDI, providing a very powerful and flexible infrastructure!"
www.lawo.com
Top Related Stories
Click here for the latest broadcast news stories.