Broadcast News
25/08/2021
USSI Global Technicians Optimize LED Wall Performance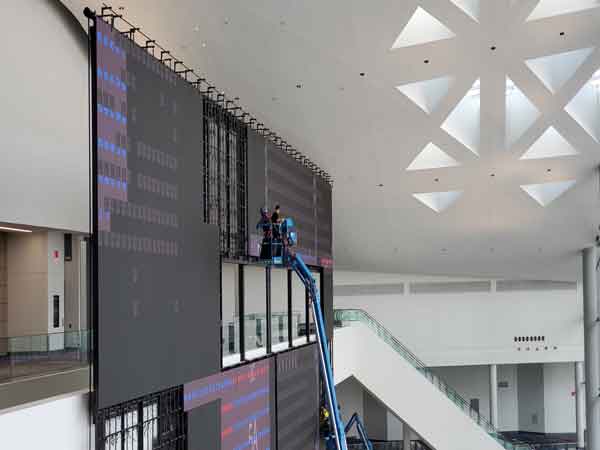 Executives at the Las Vegas Convention Center did not want to gamble with a large Direct View LED (dvLED) wall at its facility.
At 165 feet high and 90 feet wide, it is one of the largest dvLED walls ever installed and will display advertising, live or recorded programming, show and venue news, and more.
"A three-story display is a stunning way to welcome attendees to the LVCC," said David S. Christiano, CEO and President, USSI Global. "It's a multi-functional wall that offers a multi-zone approach to programming. That kind of flexibility provides a very large and very creative canvas for sharing informative and entertaining content."
Composed of 2,278 LED cabinets, the large video wall offers a visual spectacle for convention attendees that unleashes stunning content with high-speed rendering in a high-traffic area. USSI Global, a turnkey provider of customized network, broadcast and digital signage systems, was entrusted with a maintenance contract to optimize key technical attributes including content synchronization, power distribution and cable management, ensuring high-quality video wall performance and an exceptional viewer experience as conventions return.
USSI Global has the tools, teams, and experience to design, install, and maintain the biggest displays in the business. dvLED walls have become the display of choice in high-profile retail stores and other locations because of their superior image quality and color matching. Led by its dvLED experts, USSI Global worked quickly to create a solution that brings the visual experience of this large, dynamic video wall to life as attendees move between exhibit halls.
In July, when it was time for maintenance, USSI Global sent its dedicated team to LVCC to handle the project. As part of the process, the on-site team of six USSI Global technicians and six certified union lift operators removed and reinstalled cabinets, replaced power supplies, and improved cable management throughout the wall. The project, which required four 50-foot scissor lifts and two 150-foot boom lifts, was completed in just seven days.
www.ussiglobal.com
Top Related Stories
Click here for the latest broadcast news stories.