Broadcast News
09/08/2021
Six60 Saturdays Choose Brompton Technology's Tessera LED Processing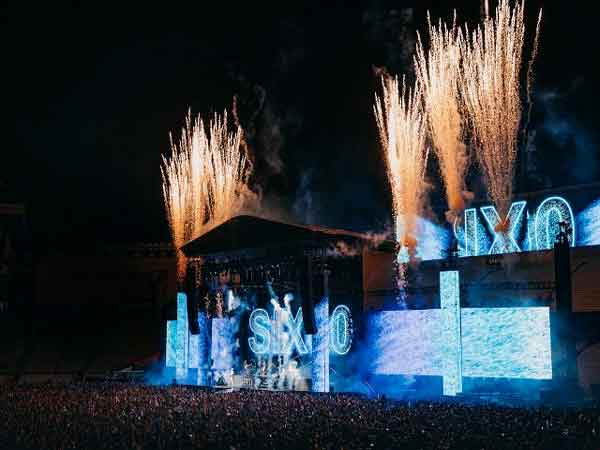 After more than a year of lockdown, the wait was finally over when the multi-platinum selling band, Six60, embarked on a massive tour across New Zealand.
The Six60 Saturdays tour culminated with a historic 'first' when they became the first ever band to play at the iconic Eden Park stadium in Auckland, with over 50,000 fans gathering to see the live show and sing their favourite lyrics together. Video production and equipment supplier, Big Picture, provided a complete video system package both for the tour and the inaugural concert at Eden Park, which included Brompton Technology's Tessera LED processing.
"Coming out of a year of Covid restrictions, we were excited to be given an opportunity to put together a video system package for the upcoming Six60 Saturdays tour," said Paul Carppe, General Manager – NZ at Big Picture. "We have a close working relationship with Eccles Entertainment (promoter), Ben Dalgleish from Human Person (show design) and Global Production Partners (production management) so we were able to meet their vision and offer them a package that fitted the technical brief."
The package included 215m2 of ROE MC7 in TAIT Touring frames, Brompton 4K Tessera SX40 LED processing with Tessera XD 10G data distribution units, a Sony HD PPU Camera system and disguise servers to run the content. Because of the Christmas and New Year holiday period, the team had a relatively short lead time between final confirmation and the start of the tour, which was further complicated by the need to ship extra LED product from Big Picture Australia. "The short lead time could have been a problem, but we were able to mitigate most of the potential issues thanks to the ease of use of Brompton's processing and Tessera software features," added Carppe.
Another challenge was the removable door element for stage/artist access, which had to move in and out during changeovers whilst fitting seamlessly into the wall during performances. According to Carppe, Brompton's Tessera software enabled them to map the door shape into the wall with ease.
With the tour on the road for six weeks, using bulletproof, high quality equipment was key. "Our previous experience with Brompton made it our top choice," explained Carppe. "Having a screen so big meant that Tessera's 'Identify' test pattern, also called beacon, allowed us to easily identify problem panels so they could be fixed or replaced quickly and efficiently. Also, the ability to globally colour balance and match the wall across multiple processors made life easy. In terms of the system build, it was useful to have the Tessera processors in video world and then feed out to the two XD units that were behind the screen."
Choosing the right products definitely paid off, with tour's technical director, MJ van Lingen, happy with Big Picture's video system.
Two months after the 2021 Six60 Saturdays country-wide tour, 50,000 fans flocked to Auckland stadium at Eden Park to see the beloved Kiwi band christening the stage for the stadium's musical debut, setting records as the biggest homegrown production for many years.
"We used a large portion of our outdoor LED stock to create the giant 600m2 screen for this feat of a show," concluded Carppe. "Following the success of the Six60's Saturdays tour, there was no question about which LED processing to use for the Eden Park concert. Brompton Technology was our first and only choice!"
www.bromptontech.com
Top Related Stories
Click here for the latest broadcast news stories.