Broadcast News
03/08/2021
Turkey's Revolutionary Virtual Production House Relies On Brompton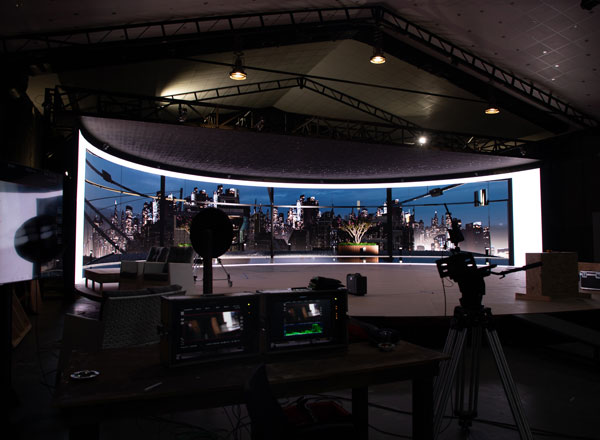 MGX Studio, a revolutionary project in Turkey birthed during the pandemic, has brought together both conventional and pioneering technologies used by cinematographers with help from Brompton Technology.
Turkey's first virtual production (VP) house, the facility offers a next-generation LED stage with industry-leading Brompton processing, advanced camera tracking solutions, in-camera VFX, plus a host of pre- and post-production tools, allowing directors and filmmakers to create enriched interactive environments.
"We decided to use the time when we were confined to our homes wisely, researching and looking for the latest technologies in VP," said Halit Gülmez, Technical Director at MGX. "MGX Film's owner, Müşvik Guluzade, was a great inspiration to all of us as he was the first to recognise the power of virtual production and its influence on the global cinematography industry. He was the first to fully embrace the technology and bring it back to Turkey, establishing the country's very first virtual production facility, MGX Studio."
With Guluzade at the helm, the MGX team took its first steps to not only achieving the 'know-how' of the new technology, but also being a VP facility that guides the technology rather than follows it.
The team completed studio installation within five months, with MGX CTO and Studio Manager, Fatih Eke, being instrumental in choosing the right equipment. "After spending three months doing research and looking at other facilities like the ILM StageCraft virtual production solution, we built our own powerful Ledeca LED screen setup with top-of-the-range Brompton Tessera SX40 processing. By using such cutting-edge equipment, our VP studio managed to pique the industry's interest even before we started to actively promote it," Eke explained.
The Ledeca team took an active role in the installation process and offered their full support while the studio was being built. "It was great to have the Ledeca team on-site. They did a temporary LED screen and processor install for us so we could see the full system and have a chance to demo it before it was permanently installed," added Eke.
The studio setup comprises 100m2 curved LED wall, 15.92m wide by 4m high, made up of LDSISP02.6XR Ledeca LED panels. Additionally, 125m2 of Ledeca LED panels make up the ceiling, which is used for lighting and reflections. "Our high-tech LED screen has a 9600x1536 pixel resolution and consists of 50x8 LED panels. We are also using three Brompton Tessera SX40 processors and five Tessera XD 10G data distribution units to provide a 10-bit colour depth image," explained Mete Mümtaz, MGX's Virtual Production Specialist.
In Mümtaz's view, using Tessera SX40 has offered the team reliability, as well as outstanding performance when it comes to image and colour quality. "In a dynamic set environment, many things change rapidly in terms of the light and the colour, including lighting setups, camera settings, white balance etc. We can implement these changes very quickly and seamlessly with the SX40," he said.
PureTone and Dark Magic are just two of the Tessera features the MGX team uses constantly in its day-to-day workflows. Genlock is another must-have feature according to its two Virtual Production Specialists, Ali Koç and Halil Yağlı, and it helps that Brompton processing is fully compatible with different genlock signals.
"Thanks to Tessera's Ultra Low Latency feature, the cameras and the LED wall are in perfect sync every time. This allows us to create more reactive and truly lifelike backgrounds. The SX40 works perfectly with the Disguise media servers that we use. We also continue to work on integrating Brompton's latest Tessera v3.2 software features, such as Frame Remapping, into our studio workflow," said Koç.
Opened in January, MGX Studio's production calendar is already fully booked with projects by both Turkish and international production companies. The studio's first project was creating car driving scenes for the feature film 'Zoraki Misafir'. The next project was an eight-episode medieval period drama, 'Prens' (Prince), with 80 percent of the production taking place at MGX Studio.
"We feel the new filmmaking culture is currently growing following rapid evolvement of technology, pandemic restrictions and the way content is being consumed by Gen Z," concluded Gülmez. "Virtual production has a significant role in the formation of this new culture. We aim for Turkey to be part of this important change, with MGX Studio fully supporting the maturity of virtual production. Brompton Tessera processing is an important element for us on this journey as, together with other cutting-edge technology partners, it spearheads us into the future of VP and filmmaking."
www.bromptontech.com
Top Related Stories
Click here for the latest broadcast news stories.