Broadcast News
02/07/2021
Japan AV Supplier Launches World-Class Virtual Production Studio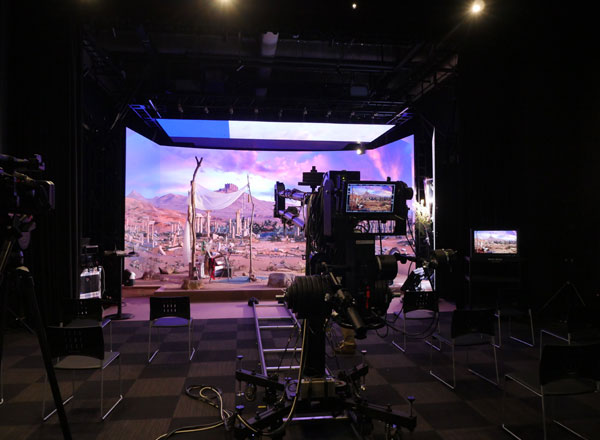 A new industry-leading virtual production studio has been unveiled in Japan, utilising disguise's high-end technology.
Japan AV supplier Hibino Group has called on disguise xR to power the new facility, which also features top-of-the-range disguise vx 4 and rx II media servers. This allows the Tokyo-based studio to offer next-generation in-camera visual effects productions to clients in a wide range of markets, from film and TV production to music videos, advertising and corporate events.
An open house was held for the new Hibino VFX Studio at the beginning of June, offering producers and directors to see first-hand the opportunity it offers their productions. In a time when location-based filming is increasingly expensive or logistically difficult, virtual production offers a simple and effective solution.
Junichi Imokawa (Imo), Director and Managing Executive Officer for Hibino, said: "Since we began working with disguise ten years ago, we have built a very strong bond and have used each of our expertise to push each other past what we believed feasible. We've made the impossible possible."  
"disguise has become our go-to supplier because it has a very impressive portfolio of video rental partners which would rival the best companies in the world. The amazing projects that disguise has helped realise always inspires us and motivates us to keep striving for perfection. With disguise in our corner, it gives us the ability to maintain our position in Japan among the heavyweights."  
As productions get bigger, so do the screens and the resolution demands. disguise's vx 4 offers 4K outputs that are capable of playing up to four times uncompressed 4K60 with lossless 10-bit video, ensuring Hibino can more than match up to these demands.
Spurred on by the incredible virtual production advancements being made in TV shows like Disney's 'The Mandalorian', Hibino has worked hard to understand the intricacies and challenges the field presents in order to build and provide their clients with a user-friendly studio environment offering the very best technology on the market.  
Hibino is the first company to secure state of the art ROE Ruby 1.5F LED screens for all sides of the studio. Paired with a further ROE CB5 screen on the ceiling, the studio provides a truly immersive setting for any production.  
Supporting this top-of-the-range set up with disguise machines was a "no-brainer", said Imo. The studio is powered by three rx II machines, with two dedicated solely to content rendering and a third providing connectivity with Unreal Engine via disguise's multi-user editor. In unison with a vx 4 unit, Hibino has built a powerful studio that will be the best possible environment for the most demanding of productions.  
"Hibino VFX Studio is a platform where people in the industry can get a taste of in-camera VFX," said Imo. "Although there is a massive number of studios in Japan, purpose-built in-camera VFX studios are few and far between. On top of that, the cost of bringing LED screens and systems into studios on a project-by-project basis is too high. I saw a gap in the market. Our vision is to help make these spaces more accessible and commonplace within the industry. We'd like to distribute our elaborate LED and systems to as many studios as possible across Japan."
www.disguise.one
Top Related Stories
Click here for the latest broadcast news stories.