Broadcast News
23/07/2021
Visual Three Supports First Ever Live UHD Broadcast In Malaysia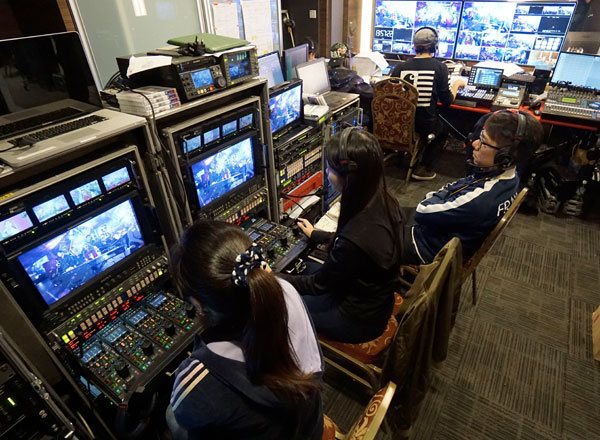 The first ever live UltraHD broadcast in Malaysia has been transmitted with a host of AJA solutions.
Visual Three provided technical support to help the local TV station deliver the landmark broadcast under the direction of Business Development Director Jacky Lim. While the client required an HDR master for archival purposes, the broadcast was to be transmitted in UltraHD SDR. Because Visual Three's cameras and internal broadcast system are in HDR, the team leveraged AJA's FS-HDR to power live HDR and SDR conversions as well as embedding audio for final distribution. Visual Three used a similar workflow using FS-HDR to embed audio for final distribution for Singapore's National Day Parade in 2019.
In live production environments, FS-HDR simplifies workflows for Visual Three by helping the team convert and match signals from different operating systems, as well as matching colour between multiple camera brands. Throughout the pandemic, FS-HDR's robust web-based UI has also provided a simplified workflow for remotely configuring and controlling cameras located in multiple locations. Lim added: "FS-HDR also features ports where you can install optional SFP modules to output media over 12G-SDI Fiber or Coax, making the device future-proofed for the most advanced workflows."  
In addition to FS-HDR, Visual Three is using AJA's FS4 4K/UltraHD and multi-channel 2K/HD frame sync and universal converter for colour matching cameras from a central control room. FS4's procamp and colour corrector are used to match the look of cameras that lack internal colour correction functionality and for cameras positioned in fixed locations that are hard to reach and adjust, such as devices rigged in hoops during basketball games. FS4 also converts formats between UltraHD and HD and interlaced and progressive video, and is a frame synchroniser for incoming signals. Visual Three uses AJA's Ki Pro Ultra to simultaneously record up to four HD channels as Apple ProRes files, with analogue or AES audio. The company previously used FS2 and Ki Pro for HD broadcasts and chose to upgrade with AJA for the proven reliability of its products.  
"Incorporating AJA gear into our workflow saves us both time and money, as the solutions are cost-effective and include ample features packed into single devices. AJA also offers local support and releases frequent firmware updates that continually improve the performance of their products, further simplifying our workflow," Lim concluded.
www.aja.com
Top Related Stories
Click here for the latest broadcast news stories.