Broadcast News
10/03/2020
Senior Engineer Tests Austrian Audio's OC818 Microphone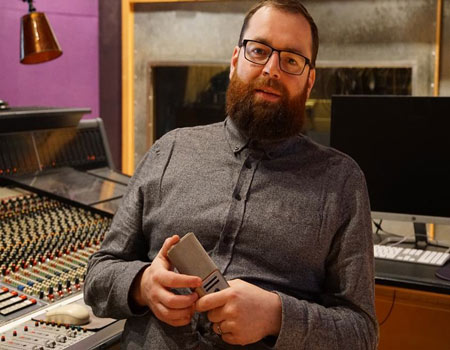 Metropolis Studios' Senior Engineer, Paul Norris recently tested Austrian Audio's OC818 microphone at the London studio complex. After gaining his degree in music technology at Hull University, Norris landed his first work experience job at Metropolis Studios in 2010.
Ten years on, he's now Senior Engineer with credits including Rag 'n' Bone Man, Paloma Faith, Gorillaz, Ed Sheeran, The Black Eyed Peas and The Kingdom Choir – winning a Grammy award for his engineering work on Rihanna's album, 'Unapologetic'.
On a recent visit to London, Austrian Audio's CEO, Martin Seidl personally delivered a pair of the award-winning microphones to the studio.
"I've used them on every recording session I've done since we got them: on overheads and room mics for drums and piano, and I recorded strings on them the other day, then on a choir session," enthused Norris. "My favourites were on the piano: it sounded amazing, but they're also fantastic for drum overheads."
Handmade in Vienna, the OC818 is a multi-pattern dual-output condenser microphone equipped with a world-first: optional wireless control. Its unique design and outstanding sonics, combined with new wireless control technologies offering highly optimised workflows, has garnered the OC818 five-star reviews from all over the world.
At the heart of the OC818 is the patent-pending, handmade CKR12 ceramic capsule, made to the same critical dimensions as the best legacy CK12 capsules, only offering far more stability: every OC818 is inherently paired with any other OC818, or even the OC18, its smaller and more affordable sibling.
"Obviously the lineage of the mic [Austrian Audio was born out of the closure of the AKG offices in 2017] was one reason why I was quite excited to try them because I love to use [AKG] C12 and 414s on drums," Norris furthered. "We did a shoot-out; the OC818s were definitely preferred by everyone to the 414s.
"Everyone's used them when they've had a chance. I think drums have been the main thing people have used them on as we had a lot of drum sessions at the end of 2019. They are really great for overheads and room mics for drums; that very natural sound and the top end on the OC818 is so smooth, and it just doesn't get harsh at all with the cymbals."
"I've recorded piano three times with them," Norris added. "In fact, the OC818 was used on the Fazioli Grand Piano that Freddie Mercury and Adele have played on in Studio A. I was using C12VRS before, but I think the OC818s are nicer sounding and give such a natural sound on the piano without having to do anything like having to EQ it too much. I never use massive amounts of compression when I'm recording piano anyway, but it just sounds like a piano straight away without having to do too much. It makes life much easier."
Norris stated that although characterising a microphone is a personal thing, he found the OC818 to be "very natural sounding, open, and the top end is just so smooth. I recently used them as room mics on the Frank Carter and the Rattlesnakes Live to Vinyl session; it's not hyped but has a top end that isn't at all harsh. And you can make things bright without it sounding off."
austrian.audio
Top Related Stories
Click here for the latest broadcast news stories.