Broadcast News
24/10/2012
DPA Microphones And ResInno Offer Test Drive At AES 2012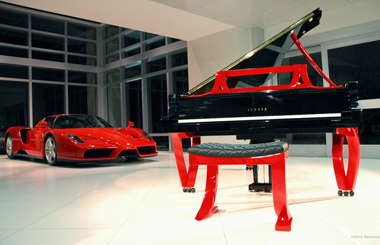 DPA Microphones and ResInno – designers of specially engineered piano legs – are teaming up at AES (Booth 629) to highlight DPA's complete line of instrument microphones. ResInno's Grand Rossa piano design will be on display at the DPA booth for attendees to not only marvel at the Ferrari-inspired red piano legs, but also to listen to the superb audio quality they produce through the DPA d:vote™ 4099P piano instrument microphones and 4006A, 4011A and 2000 Series Reference Standard Microphones.
Designed by ResInno originator Justin Elliott, the legs on the Grand Rossa have been precisely engineered to produce a distinguishable improvement to the impressive instrument's tonal quality. To emphasize the enhanced audio abilities of the grand piano, as well as those of DPA Microphones, the companies will fix DPA's d:vote 4099, 4006A, 4011A and 2000 Series microphones to all areas of the piano at AES. Attendees will be able to listen to each individual microphone through various headphone listening stations connected to each microphone and set up throughout the DPA booth.
DPA's newly-updated d:vote 4099 is ideal for live performance settings requiring high-quality, discreet mics that are effortless to change. Building on the success of the highly acclaimed 4099 instrument clip mic series, d:vote features an enhanced shock mount to provide even better absorption. More natural sounding than any internal microphone or pickup, d:vote rejects unwanted noise and accurately captures the true voice of acoustic instruments. Now, just one microphone model can beautifully reinforce an entire orchestra. The d:vote 4099P piano microphones are sold as a complete system pair on goosenecks, with magnetic mounts that can secure anywhere to the piano to allow the most realistic capture of its sound. With its low profile and unobtrusive design, the d:vote is perfect for capturing true acoustic, closed-lid piano sound in a live setting.
The DPA 4006A, 4011A and 2000 Series Reference Standard Microphones have become recording standards around the world, for both studio and live performance applications. All microphones in the 4000 and 2000 Series boast total transparency in any recording situation, while also being able to provide incredible detail and depth of sound. The definition of the series' high-frequency characteristics across a wide range of instruments is undeniably impressive for the vast majority of microphone applications. With the Reference Standard Microphones, engineers, broadcasters and musicians alike can achieve extremely clean, natural and precise reproduction in a variety of applications.
The Grand Rossa, named after Ferrari's 1957 Testa Rossa race car, boasts sleek curves forming semi-helixes on the front legs, as well as a prolonged arch stemming from the tail leg that appears to flow through the piano. The Grand Rossa also features a matching music rack, two-tone lid prop and musician's bench complete with a hand-stitched diamond pattern that matches Ferrari's interior. The entire ensemble, all painted in the iconic deep Ferrari "Rossa Corsa" red shade, was inspired by the craftsmanship and artistic beauty of the iconic automobiles.
DPA Microphones
Resinno
(H)
Top Related Stories
Click here for the latest broadcast news stories.