Broadcast News
25/10/2019
ControlWorks Consulting Teams Up With AJA Video Systems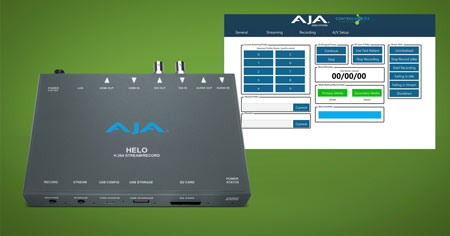 ControlWorks Consulting has teamed with AJA Video Systems to deliver a new module enabling seamless use of AJA's HELO H.264 streaming and recording device in custom integrator environments powered by Crestron Electronics control and automation solutions.
The new module allows Crestron users to easily harness HELO's SDI and HDMI I/O capabilities in their workflows, simplifying how video is live streamed to content delivery networks and simultaneously encoded and recorded to a wide range of storage options as H.264 files in custom integration settings. It enables two-way control from a Crestron processor via REST API communication, features recording and streaming controls, and provides access to device presets, and streaming and recording profiles, allowing rooms to have multiple streaming and recording configurations for each unique meeting setup.
Key feature highlights include:
• RESTful API communications
• Remote control of streaming and recording
• Recall recording presets for automation needs
• Input selections
"HELO is an incredibly intuitive, powerful tool for streaming in custom integration environments, making it the perfect complement to Crestron workflows," shared Lincoln King-Cliby, Commercial Market Director, ControlWorks. "Teaming with AJA to implement their REST API has been fantastic and we're excited to get this into the hands of our customers. We look forward to exploring how we might integrate other AJA products with Crestron solutions in the future."
www.aja.com
Top Related Stories
Click here for the latest broadcast news stories.