Broadcast News
25/10/2019
Record Number OF Exhibitors To Attend KitPlus Show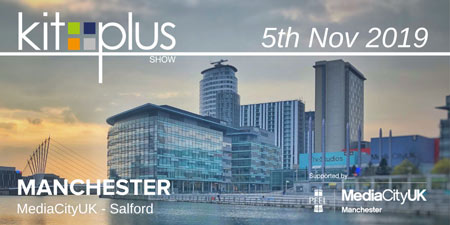 A record number of exhibitors, ready to demonstrate leading products, services, and technologies from more than 100 brands will be on hand at the ninth annual KitPlus Show MediaCityUK.
Simon Tillyer, KitPlus Show said: "Having recognised that people are increasingly less able or willing to travel long distances to shows, we decided a long time ago to take KitPlus Show to regional media hubs such as Glasgow, Bristol and Manchester. The concept is to give visitors the opportunity to see the very latest in new kit without having to travel far in a friendly, relaxed environment, and it doesn't cost a thing.
"As well as getting hands on with new kit and speaking directly with manufacturers, there are workshops, training sessions and seminars throughout the day together with excellent networking opportunities. The emphasis is on creating quality time, and the exchange of quality information, both of which are far more readily available at these regional shows than during the crush of major trade shows."
These free-to-attend events host many of the top names in the business, including Editshare, Blackmagic Design, Canon, JVC, NewTek, Panasonic, and many more.
The Manchester event grows each year and is hosted in the heart of the bustling hub of MediaCityUK, sandwiched between ITV, BBC, University of Salford, and several hundred production companies.
In addition to having the opportunity to see new technologies unveiled at IBC, a highlight of this year's show is a completely revamped seminar programme that will include exciting, contemporary insights from those at the business end of steaming, including YouTube sensation and the winner of the 2016 Nickelodeon Kids Choice Awards for UK Favourite Breakthrough Vlogger, Cherry Wallis who, with her technical director, will address and discuss the myths, business, and opportunities of YouTube. And Cherry should know. She currently has more than 500,000 YouTube subscribers…including wizards, witches, and Muggles ("non-magic" people for the uninitiated).
This much-anticipated panel session will be hosted by Alex Pettitt, a heralded "creative technologist" and the co-creator of many shows and channels. Also on the panel will be Matt Lees from "Shut Up & Sit Down" a US-based YouTube channel with more than 300,000 subscribers specialising in game news and reviews.
In another session Alex Pettitt will be interviewed about his work with 'The Kick Off', a live, weekly streaming roundtable of football enthusiasts. He'll be sharing his views on how to create high-quality content and marry it with engaging, bespoke social media strategies that maximise reach and brand awareness.
Moderated by broadcast industry sage Dick Hobbs, an esteemed panel of educators from the University of Salford, along with a former student, will discuss what they feel is the right approach to preparing the new wave of professionals, and, just as important, what challenges universities are facing to educate and equip the next generation.
And not forgetting the new and exciting technologies that will be on display at KitPlus Show Manchester, Neil Thompson, a freelance engineer and acknowledged Sony independent certified expert, will use what many are calling the potentially game-changing Sony VENICE and PXW-FX9 cameras to demonstrate the benefits, and identify the potential pitfalls of a full-frame, 6K sensor world.
www.kitplusshow.co.uk
Top Related Stories
Click here for the latest broadcast news stories.