Broadcast News
22/10/2019
TVN Selects Leader LV5600 Test Instruments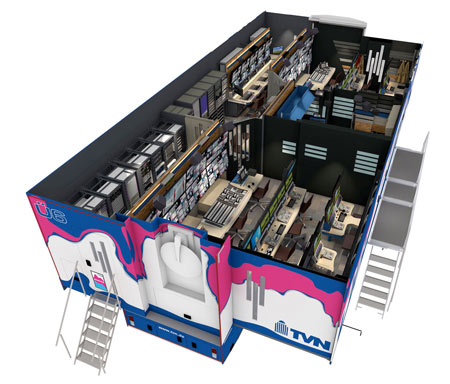 TVN MOBILE PRODUCTION has chosen Leader LV5600 test instruments as the technical reference for its newly completed UE6 4K HDR OB truck, reported to be the largest of its kind in Europe.
Built in partnership between TVN and Sony, the vehicle is optimised for high quality UHD, HD and mixed format production in both HDR and SDR. Its first deployment was at the Northern Ireland v Germany UEFA Euro 2020 qualifier in Belfast in September.
"Leader's LV5600 provides all the test and measurement facilities we need both in the SDI and IP domains," said TVN CEO Markus Osthaus. "We have invested in three units – one for each of our production galleries and the third for the associated tender vehicle. The instruments pack a lot of features into a very compact space, including 4K, HD, HDR and SDR signal analysis. They are particularly useful for matching incoming video feeds including up to 30 Sony HDC-4300 UHD cameras."
"Shooting in 4K UHD requires very precise signal monitoring from the the initial point of capture right through the production and post-production chain," added Leader's European Regional Development Manager, Kelvin Salvidge. "The LV5600 and its LV7600 rasterising equivalent are no-compromise test instruments which we see becoming the reference of choice both in the mobile and studio-based markets. Their ability to handle SDI and IP makes them truly future-proof."
Leader's LV5600 is a mains-powered SDI/IP waveform monitor in a half-rack width 3U desktop chassis with a touch-screen front panel display. It provides all the facilities needed to monitor UHD/HD/SD SDI as well as video-over-IP signals seamlessly in a hybrid operating environment. Engineering-related features include test pattern generation, eye pattern display, closed-caption monitoring, CIE colour chart, high dynamic range measurement, focus assist, customisable screen layout, tally interface, 4K/UHD operation, 10G IP input and 12G-SDI interfaces. SMPTE 2022-6, SMPTE 2022-7 and SMPTE 2110 protocols are all supported. The LV5600 also incorporates Leader's intuitive Cinezone and Cinelite which are familiar to many content production staff.
The LV7600 rasterising waveform monitor offers the same capabilities as the LV5600 but in a low-profile 19 inch 1U form-factor for easy rack or desk mounting.
The recently announced option LV5600-SER06/LV7600-SER06 is a 25 GbE single-mode video-over-IP / multi-mode fibre IP interface which provides full conformance with the SMPTE 2110 standard for transmitting 4K content in a non-compressed format via Ethernet at up to 25 gigabits per second. Also new for these instruments, option LV5600-SER32/LV7600-SER32 is an IP test pattern generator which can produce HD and 3840 × 2160 UHD test signals for delivery via SMPTE ST 2110-20 / 30/31/40 IP. IP channel stress testing can be performed by adding jitter and errors to IP packets. A network synchronisation mode allows PTP-synchronised video and audio test signals to be generated.
www.leader.co.jp/en
Top Related Stories
Click here for the latest broadcast news stories.