Broadcast News
03/10/2019
DHD Audio Announces Additions To Audio Mixing Consoles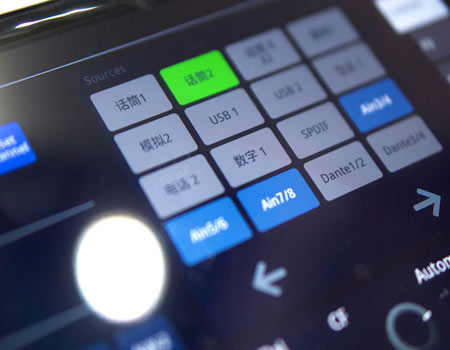 DHD Audio has announced five major additions to the capabilities of its RX2, SX2, 52/TX and 52/MX audio mixing consoles.
Introduced at IBC 2019 in Amsterdam, the new features are designed to simplify the broadcast workflow and allow seamless integration with other systems. The firm has also released a complete new podcast production system.
Auto Level Gain now allows a presenter to set up the audio levels for a talk show with many guests more easily than ever, by pressing a button to automatically adjust the gain for a specific microphone.
Hot Configuration enables a DHD mixer's user interface or processor configuration to be changed without interrupting live audio operation. Examples are adding users the mixer, changing channel labels or TFT button idents, and changing the display style of user graphics.
Stream Redundancy provides seamless protection switching in accordance with the SMPTE 2022-7 standard. It complements all DHD mixing desks and routers fitted with the DHD 52-7067 AES67-compliant audio-over-IP interface. If redundancy is not essential, this new feature can alternatively be used to double the number of transmit and receive channels to a total of 128.
UTF-8 Character Support allows Unicode characters to be displayed on DHD TFT touch screens. These include characters from languages such as Chinese, Hebrew, Japanese, Korean, Russian and Thai. The characters can be used for channel labels, global labels and buttons. UTF-8 support also allows the use of emoji, such as a telephone symbol to represent a telephone hybrid channel.
Labels and Snapshots are new browser-based applications for DHD mixers. Scheduled for introduced in December 2019, they allow platform-independent mixer control without requiring local software. Using the Labels app, mixing console operators can change channel labels and global labels directly from a browser on a PC or a tablet. Snapshots can be used to save and restore operator-specific mixer and channel configurations via the browser.
SX2 Bundle (DHD 52-1988) is a complete production system designed for podcasters requiring professional equipment. It includes a desktop SX2 mixer (DHD 52-5614) with four motorised faders, a microphone input, a headphone output and a stereo analogue output for monitor speakers. Also included is a 1 RU XS2 I/O core (DHD 52-1830). The XS2 is the processing unit of the mixer and has additional digital and analogue inputs/outputs plus special interfaces such as a four-channel Dante I/O and a stereo USB port for direct connection with a PC or Mac. The I/O core can be mounted directly under the desk or in a rack.
dhd.audio
Top Related Stories
Click here for the latest broadcast news stories.