Broadcast News
18/09/2019
G&D To Showcase Latest KVM Trands For e-sports And Broadcast Professionals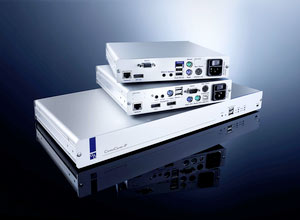 Guntermann & Drunck (G&D) will showcase the latest KVM trends for e-sports and broadcast professionals at NAB Show New York and SMPTE Los Angeles.
KVM systems (keyboard, video, mouse) allow you to separate computers from operators. KVM modules then make the equipment available at remote producer workstations or at various e-sports venues, where images are displayed in a high-resolution and without any latency. Therefore, you can use KVM to form a strong IT backbone offering producers and technicians enormous flexibility in operating and maintaining the connected computer systems. As KVM pioneers, G&D provide the broadest compatible KVM portfolio available on the market.
In addition to their sophisticated KVM portfolio, the KVM experts will display an absolute innovation in terms of IP transmission: the ControlCenter-IP, a matrix system for KVM-over-IP™, which enables distributed switching of computer signals over standard IP-based networks. With its lossless video quality and near-zero latency, the system completely redefines the flexibility and scalability of demanding broadcast and e-sports applications.
The IP-based system consists of the central ControlCenter-IP unit and a series of IP extension modules that form a powerful matrix for KVM-over-IP™ transmission. The system excels with flexible transmission via CAT or fiber optic cables over standard IP-based 1Gbit/s networks.
Native 4K@60 Hz over IP
The new system of the German manufacturers contains state-of-the-art technologies and thus guarantees not only pixel-perfect video transmission and best hand-eye coordination, but also the transmission of high-resolution, native 4K signals over IP while supporting resolutions up to 3840 × 2160 @ 60 Hz.
In addition to solutions for DP 1.2, the company also offers modules for DVI single and dual link as well as DP 1.1 with support for all common resolutions. Thanks to lossless image quality and top performance, professional broadcast and e-sports users will find exactly what they are looking for – even on remote computers.
www.gdsys.de
Top Related Stories
Click here for the latest broadcast news stories.