Broadcast News
09/09/2019
Video Progetti Completes Upgrade For Istituto Luce-Cinecittà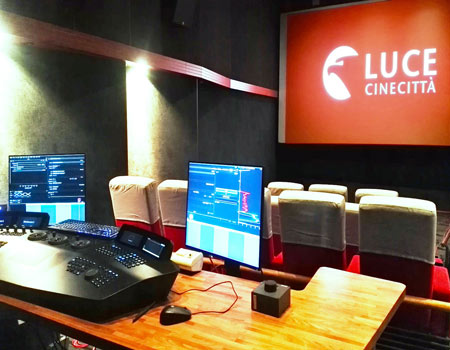 Video Progetti has completed a wide-ranging upgrade for Istituto Luce-Cinecittà at its production/post-production facilities. Istituto Luce-Cinecittà has managed the Cinecittà Studios since 2017.
Additional budget had been provided by Istituto Luce-Cinecittà in order to ensure that its post-production capability leveraged technology such that it would continue to be capable of competing in the international market for both film and television assignments.
With renowned filmmakers such as Federico Fellini, Roberto Rossellini, Luchino Visconti, Sergio Leone, Bernardo Bertolucci, Francis Ford Coppola, Martin Scorsese, and Mel Gibson having worked at Cinecittà, and with a remarkable 47 Oscar-winning movies having been made there, the studio in Rome is not only the hub of Italian cinema but rightly famed around the world.
Istituto Luce-Cinecittà was challenged by the need to be able to handle multiple UltraHD streams simultaneously as it integrated its production systems with its post-production systems.
Following a period of consultation, Video Progetti recommended and installed four ELEMENTS ONE SAN (storage area network) storage nodes. These are specifically designed to eliminate the need for time-consuming data copying: they can provide media assets to every department in a facility, from scanning, to colour grading, editing, compositing, VFX and GFX and more. The nodes will provide centralised storage for all of Istituto Luce-Cinecittà's uncompressed 4K cinema and UltraHD HDR television assets.
"Upgrading our entire SAN subsystems to the latest technology has been a challenge – but a challenge made much easier by the professionalism and flexibility of Video Progetti," said Fabio Filoni, Head of Post-Production Services at Istituto Luce-Cinecittà. "In the near future, the integration of production with post-production will give rise to a need for enormous bandwidth to handle all the recording and editing of both video and audio for films. Not only does the new ELEMENTS ONE system meet our current needs, but its modularity will allow us to upgrade and expand it in the future in line with increased volumes."
Filoni noted that Istituto Luce-Cinecittà has most recently been working on several films that are shown at the 76th Festival di Venezia including Martin Eden, directed by Pietro Marcello; La Mafia non è più quella di una volta, directed by Franco Maresco; and on the restoration of the 1961 Italian film Tiro al Piccione, directed by Giuliano Montaldo.
"We were delighted to have been approached by Istituto Luce-Cinecittà and awarded this important contract to undertake such a fascinating project," said Carlo Struzzi, CEO of Video Progetti. "It was a privilege to work with one of the foremost production/post-production facilities in the world, and to help the studio maintain its international competitiveness. We're also proud to have played a part in creating a substantial SAN storage installation - the first in Italy in which both audio and a significant number of very high resolution video streams from both production and post-production can be handled simultaneously by multiple clients."
www.videoprogetti.it
Top Related Stories
Click here for the latest broadcast news stories.