Broadcast News
27/08/2019
Iron Mountain InSight™ Solution To Be On Display At IBC 2019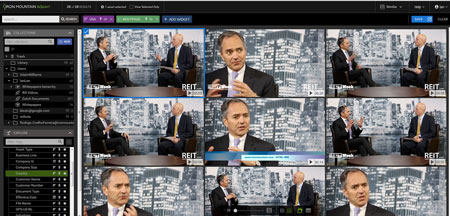 Iron Mountain Entertainment Services (IMES) is to introduce Iron Mountain InSight™ to the media and entertainment (M&E) industry at IBC 2019.
The solution, powered by Google Cloud's machine learning and artificial intelligence (AI) algorithms, gives M&E businesses the power to unlock the potential of their media assets. Awarded Google Cloud Technology Partner of the Year - AI and Machine Learning in April 2019, Iron Mountain InSight will be demonstrated throughout the IBC show at the Google Pavilion (Hall 14, Booth E01).
Today's media organizations often find themselves with large content libraries spread across a complicated ecosystem of diverse systems, making it difficult and time-consuming to serve the right content to the right audience at the right time. By applying machine learning technology to rapidly analyze vast amounts of unstructured content and enrich it with meaningful metadata, M&E businesses can benefit from actionable insights and predictive analytics to help them monetize their valuable media assets.
"With multiple data types from various data sources to deal with, many modern M&E organizations simply lack the internal skills, systems and resources to realize the potential of their media assets," said Greg Parkin, Global Head of Partnerships and Industry Relations, Iron Mountain Entertainment Services. "M&E businesses can use Iron Mountain InSight to drastically increase their speed and effectiveness in accessing and assessing their media inventory – to not only find and classify specific video, audio, images and text but also to discover copyright and other IP infringements."
Supported by its ability to connect to multiple repositories on-premises or in the cloud and apply retention and privacy/security policies, Iron Mountain InSight adds structure, context and metadata to information. For example, film studios can benefit from its simple, visual and intuitive user interface to search, find and 'clipify' content easily, while sport broadcasters can identify specific players and associated brand logo placement within minutes to deliver optimal value during contract negotiations.
Jim O'Dorisio, SVP-GM of the Emerging Commercial Solutions Business at Iron Mountain added: "It has never been more important for businesses in the M&E space to maximize the potential value of their media assets. Iron Mountain InSight has proven its effectiveness in data-driven industries such as energy and finance, but IBC is the perfect place to shine a light on the benefits it brings to the world of media and entertainment. Not only does it give content owners ready access to their assets to accelerate their digital transformation, it enables them to better serve their customers, drive operational efficiencies and open up new revenue stream opportunities."
www.ironmountain.com
Top Related Stories
Click here for the latest broadcast news stories.