Production News
04/07/2019
Sky Media To Rollout Sky Analytics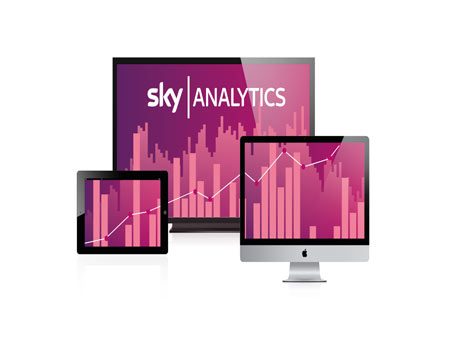 Sky Media will rollout Sky Analytics to both media agencies and advertisers, opening-up direct access to plan, report and evaluate elements of their TV campaigns for the first time.

The release of the Sky Analytics online portal is the first phase on a roadmap to simplify execution and management of Sky's cross-platform TV advertising.

• New online portal to plan, report and evaluate TV campaigns
• Launching with capability across AdSmart and Video On Demand platforms
• Inclusion of third-party verified MOAT video score data
• Extensive roadmap including cross-platform reporting through CFlight and transactional capability.

Sky Analytics will deliver advertising partners the ability to:

• Define, plan and price their Sky Media campaign in one place
• Direct and accelerated access to campaign performance and reports
• Deliver a deeper understanding of campaign outcomes allowing brands to evaluate and optimise advertising in greater detail.

Sky Media is on a journey to make Sky Analytics the one-stop portal to plan, report, evaluate and further optimise cross-platform Sky Media campaigns. Starting with AdSmart and On Demand, with a roadmap to enable capabilities across all its full addressable, on demand and linear suite of products. Media and advertising agencies, as well as established and local advertisers can use Sky Analytics to quickly access and control advertising campaigns.

Jamie West, Sky's Group Director of Advanced Advertising, said: "Sky Analytics is a significant step in giving agencies and clients more control of their TV campaigns. The ability to plan campaigns using the wealth of targeting attributes or combining with their own data is hugely compelling. We are on a journey to deliver a single powerful platform with the flexibility marketers have come to expect from digital, but for the brand safe premium video experience of TV."
Top Related Stories
Click here for the latest broadcast news stories.