Broadcast News
02/07/2019
Live Media Group Announces 3 Acquisitions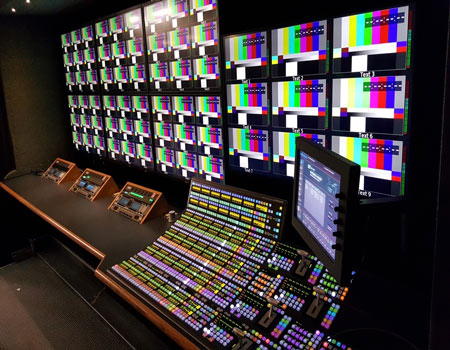 Live Media Group Holdings has announced that TNDV: Television, Harb Production Services and Coastal Media Group will join its live production business portfolio effective immediately.
The acquisitions will create the largest mid-level, full-service live production facilities provider and company in the broadcast and live event industry. The three companies join Live Mobile Group, an owned and operated division of Live Media Group Holdings, to create the new nationwide powerhouse organization.
The acquisitions were driven by the vision of Brad Sexton, President and CEO of Live Media Group Holdings, who recognized the lack of a national full-service, mid-level broadcast provider and production option for today's most demanding, ever-changing world. The innovative strategy more than triples Live Mobile Group's fleet of production and uplink trucks, and expands the company's business and technical staff with a diverse group of live production, systems integration and event management experts. The resulting company will change the competitive landscape for mid-level event live production facilities in a market dominated by a number of large providers and companies. Out of the gate, the consolidated company will consist of 18 mid-sized production hybrid units, with additional standalone smaller production uplink units.
The expanded Live Media Group Holdings portfolio brings the following specialized companies and services together:
Live Mobile Group: A premier, full-service, mid-sized truck provider for sports, entertainment and music, offering mid-sized 38'-42' hybrid expando production and transmission units.
TNDV: A full-service provider of 38'-53' mobile production and audio facilities, as well as production and secondary services for broadcast television, live entertainment, and AV-related productions including entertainment, corporate, worship and higher education.
Harb Production Services: A supplier of state-of-the-art, mid-sized 40'-45' single and double expando production trucks, equipment and integration services to support sports, entertainment and other live event productions.
Coastal Media Group: A live event management services company specializing in fiber and satellite transmission, insert studios, control rooms and editorial facilities on the west coast.
Live Media Group: One of the best known companies offering a true, turnkey approach for the creative, production, encoding/transmission and broadcast of live events on any scale for entertainment, music and sports.
Live Media Group Holdings will retain the staff, facilities and structure of all organizations. Los Angeles will serve as a west coast production and truck operation, with plans to relocate its corporate operations to TNDV's headquarters in Nashville. The Harb Production Services facility in Knoxville, Tennessee will serve as a truck operations and integration facility. Sexton adds that "all companies will continue to operate under their current business names for the time being," citing the strength of their brands, expert engineering execution, and professional reputations.
www.livemediagroupholdings.com
Top Related Stories
Click here for the latest broadcast news stories.