Production News
26/06/2019
Sky Announces Women In Technology Scholars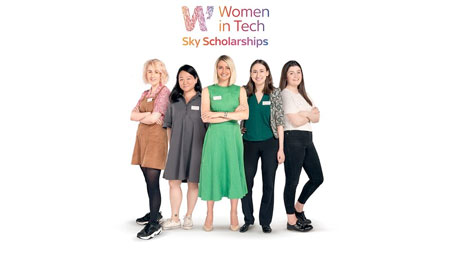 Sky has announced its second cohort of Women in Technology Scholars, awarding five talented women a total of £125,000 to accelerate a business idea which harnesses technology innovation.

The winners are a diverse mix of ages and industry experience however, they share a desire to use technology to bring about positive change. The five Scholars will focus on: improving children's cultural experiences; helping the elderly stay independent; interactive television; advancing agriculture and educating young people on mental health.

From hundreds of applications, ten high quality candidates were shortlisted, before the impressive final five were selected by a panel that included Sky's Group Chief Information Security Officer, Elaine Bucknor, who said: "I was blown away with the ingenuity of the projects presented and the calibre of talent and creativity. It's widely acknowledged that attracting women into technology is a challenge, so we have a responsibility to bring about change. Boys are more than twice as likely to be encouraged to work in tech, so it's little wonder that half the girls we spoke to had ruled out working in the industry by the time they reached 18-years-old. Our Women in Technology Scholars programme enables us to nurture new talent and highlight inspiring role models to encourage others to follow."

Sky's Women in Technology Scholars for 2019 are:
Olga Kravchenko (24, Ukrainian): Olga's VR App Musemio transforms the way children experience culture by using engaging VR elements to educate. She now plans to develop the app so that parents and families can track how their children are learning, whilst also continuing to help cultural institutions improve how they interact with younger digital generations.

Colleen Wong (43, British/Canadian): With no technical experience Colleen set-up the successful My Gator Watch. Now, the inspirational mother of two plans to evolve the product from a tracker for kids, to a wearable mobile device for seniors that can track location and detect falls, to help the elderly maintain independence.

Rebecca Saw (23, British): Rebecca is looking to create never-before seen interactive story-telling that will mix linear television and gaming to provide viewers with a dynamic blended reality. She recently worked on Traitor, a VR-live theatre thriller that premiered at the Tribeca Film Festival .

Mary Murphy (20, Irish): The youngest Scholar, Mary, alongside her twin sister was a CEO at 16 years old after designing and manufacturing the Sheep Marking Gun to help on her family farm. She will continue to engineer agritech products and develop a new software-based product that could prevent sheep theft .

Rachel Clancy (27, Irish): Rachel is looking to develop a game she has made called 'Get Closer', where players open dialogue with a forest creature who needs their help. The game teaches young people how to talk about emotions and support themselves and others through mental health issues.
Top Related Stories
Click here for the latest broadcast news stories.