Broadcast News
02/01/2019
PFT Scoops TV Technology's 2018 Product Innovation Award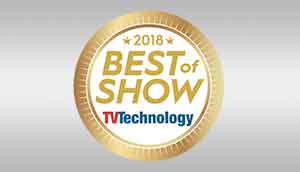 Prime Focus Technologies (PFT), the technology arm of Prime Focus, has been awarded TV Technology's 2018 Product Innovation Award for its native media recognition Artificial Intelligence (AI) platform, CLEAR™ Vision Cloud.
A module of PFT's CLEAR Media ERP Suite, Vision Cloud builds Machine Wisdom from intelligence to transform business operations and unlock new revenue potentials for Media companies. While standalone AI engines can recognize objects, faces, actors, locations, sound and more within individual video frames, Vision Cloud can identify complex sequences (like a specific character in a car chase/fighting on a train), actions (like punching/kissing) and video segments (like credits/promos/recaps). It delivers search results that are far more meaningful and contextual, and can be used to easily extract relevant content for multiple use cases – right from creation and post production to distribution and marketing. Vision Cloud leverages the collective intelligence of the industry's most sophisticated AI solutions, and draws on PFT's decade long experience of collecting, curating and annotating content (400 million tags till date) to build own Machine Learning (ML) models.
"We're absolutely thrilled that TV Technology has selected CLEAR Vision Cloud for its Product Innovation Award this year," said Adrish Bera, Senior Vice President, AI & ML, Prime Focus Technologies "Our objective behind creating Vision Cloud was to make content operations more efficient, cost effective and scalable and create new revenue streams. Validation by an expert jury and winning against stiff global competition is clear testimony to the superior technology innovation and business value that the product brings to the global Media and Entertainment (M&E) industry."
TV Technology's Product Innovation Awards recognize excellence in manufacturing of products to serve the TV/pro video and radio/online audio industries. Winners are selected by a panel of professional users and evaluation criteria include innovation of concept and design, creative use of technology, price value, and suitability for use in a broadcast TV/pro video or broadcast/online radio environment.
www.primefocustechnologies.com
Top Related Stories
Click here for the latest broadcast news stories.