Broadcast News
12/12/2018
Barnfind Technologies To Host New Solutions At ISE 2019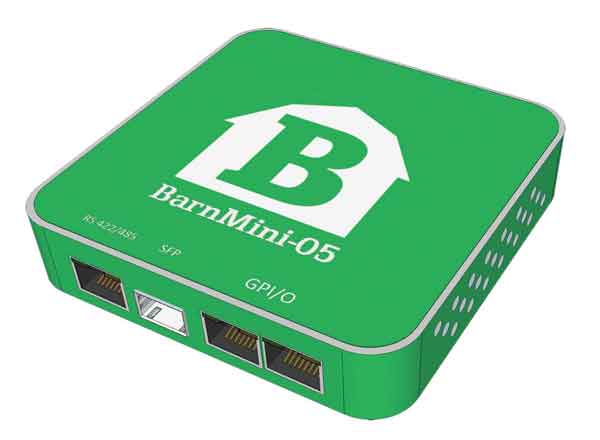 Barnfind Technologies is to display a host of new technologies and solutions on Stand 15-U295 at the ISE 2019 Show in Amsterdam.

Barnfind will leverage the success of its products in the broadcast, production and post production markets to grow its presence in digital signage, military, hospitals, oil & gas, CCTV/surveillance, IT, sports, events, remote production, live production etc.

NEW BTF1-41 — the game changer with a network of functions
Barnfind's BTF1-41 Frame is the company's most advanced unit to date and the first BarnOne with multi-format 12G capacity. The frame's future-proof technology addresses emerging formats such as 4K and IP with a network of functions that supports multiviewers, signal processing and compression in addition to the traditional functionality Barnfind is known for. An optional mid-board section allows third-party vendor technology to be integrated into the platform, guaranteeing its longevity, and functionality will be upgraded constantly making it resistant to obsolescence. Visitors will see what the platform can offer now, but also get a glimpse of what it will be capable of in the future.
The multi-range / multi-format BTF1-41 is 12G capable, includes a 36 x 36 router, a built-in GPIO, Tally and UMD control. The series has BarnStudio Barnfind's control software, and also offers the same flexible third-party control as the existing BarnOne 3G system.

NEW BarnMini-22
BarnMini-22, the newest BarnMini module and an extension of the series, follows in the footsteps of the well-known BarnMini-02 and BarnMini-12, two models that have been embraced by demanding clients around the globe by the thousands. BarnMini-22 offers full built in management of reclockers and signal control via BarnStudio. Barnfind is one of the very few manufacturers that offers a small unit with 2 x SFP for protocol agnostic signal conversion.

BarnMini-05
BarnMini-05 is the most advanced BarnMini module. It is a compact way to combine serial data RS422/RS485, 4 x GPI and 4 x GPO in one unit, controllable via an Ethernet/ SFP port. The unit can serve as an intelligent bridge between many third-party devices, for example transferring an RS422 signal or Tally between two locations. It can also control an external optical changeover switch (BarnMini-06) in a redundancy setup, and triggers are easily set. BarnStudio can be used to configure and monitor BarnMini-05.

BarnOne Stage Box Break-out panel system
Barnfind's new Stage Box Break-out panel simplifies installations and makes them safer and more flexible. A must for any AV project, it allows front panels to be customized based on the required connectors. A selection of eight modules will serve as connection points to one or more BarnOne and BarnMini units, it also could be used independently for any 3rd party products and installations. All modules and the 2RU chassis are made of solid anodized aluminum, with high performance connectors. Barnfind offers BNC, RJ45, XLR female and male, hybrid Camera and CCU connectors as well as standard LC/PC fiber optical connectors.

Unique HiLo SFP system for 36-Channel CWDM
Barnfind HiLo SFPs are designed to meet the need for higher density of signals in one single fiber. By using half of the spacing in each wavelength of the CWDM range, the HiLo SFPs can double the capacity of the traditional CWDM bi-directional transmission. This enables a total of 18 bi-directional links (resulting in 36 channels on one single fiber). The HiLo SPFs are designed to be used with a standard optical CWDM multiplexer. This product exemplifies Barnfind's expertise as a fiber optic specialist.

BTF1-10-AA
BTF1-10-AA offers 8x analog audio input, 8x analog audio output converted to/from MADI. The frame includes the standard main board with 16 x SFP ports and 8 x BNC top board included. The BTF1-10-AA offers the same functionality as all BarnOne frames. MADI signals can be identified in the frame for analog audio transport. The audio board offers a 264x264 single channel audio matrix with 4x bidirectional MADI streams interfacing with BarnOne's BNC and SFP ports. This makes it a powerful MADI router with analog interface and MADI as a fiber transport medium.

Now with Ember+
Barnfind has added support of the Ember+ control protocol to the Company's extensive portfolio of management vendors. This development allows 3rd party control platforms access to all functionalities and features of the BarnOne series and significantly widens the capabilities of management systems, including the ability to monitor SFP status and control (even for 3rd party SFPs), and redundancy management. The addition of Ember+ opens opportunities for more advanced integration of Barnfind units into any kind of installation.

Signal Redundancy Switch
Barnfind's latest firmware release includes significant added functionality via an integrated signal redundancy switch that can be configured for all BarnOne's outputs. Regardless of signal format, bandwidth, optical or electrical, each individual output can be configured with 'alternative' inputs and can all run in parallel or individually. The switch supplies full control of signal presence, quality and status, and provides a complex, advanced redundancy system. Functions can be configured and monitored in the new BarnStudio Web interface.

Protocol agnostic transport through one fiber
Barnfind's transport solution supports any digital protocol, whether electrical or optical. The sophisticated and compact system eliminates the need for heavy and expensive cabling by allowing up to 36 signals traveling through one single mode fiber over distances up to 80km. An internal matrix router allows the user to switch any incoming source to any output port. Barnfind's products serve as the transport medium for signals such as MADI, SDI, SDTI, Ethernet, CVBS, AES, KVM, HDMI and ASI and any unknown proprietary protocol.
Top Related Stories
Click here for the latest broadcast news stories.