Broadcast News
11/12/2018
Wanted: Thinkers Outside The Box - VMI's Internship Program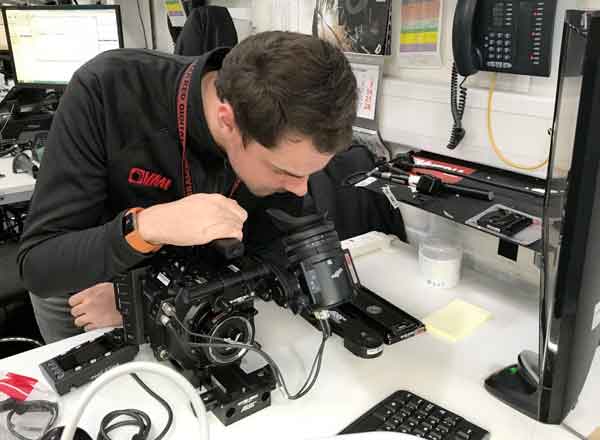 If you've recently graduated and haven't yet been offered a graduate job, you can boost your skills and gain a foothold in the industry by becoming a runner or taking on a work placement or internship. These can help you to make contacts, prove yourself to an employer, build your confidence and put you in a stronger position to get a permanent graduate job.
The catch, of course, is whether the employer is just taking you along for the ride, ringing some free mileage by exploiting your labour without giving anything in return.
It should be a quid pro quo. You need the opportunity to see if you're suited to the industry and perhaps get the chance to shine, while the employer should treat you with respect and ideally be on the look out for fresh talent to build into their ranks.
VMI runs an internship programme and it's worth knowing that of the 24 full time employees at the London division of the company, six started out as interns.
Out of 24 full time employees at the London division of the company, six started out as interns.
It's also a stepping stone for work as freelance camera operators within the industry. Matt Heath, who spent four years at VMI following graduation from Greenwich University, is now a self-employed camera assistant most recently working on Hat Trick Productions' sitcom starring Martin Clunes about driving instructor Warren Thompson for BBC One.
As fortune would have it one of his first tasks was revisiting VMI Bristol to attend the camera test for the series shoot.
"It's incredibly important for us to try and find younger people who have little or no experience because they can't get a job without it," said Barry Bassett, VMI's managing director. "In the first place we're looking for people who have aspirations of being in the TV and film industry."
Initially the apprentice job entails greeting clients, shifting palettes and cleaning equipment but interns can quickly gravitate to learning from experienced technicians how to prepare kit for hire, check returning inventory, and ensuring flight cases kits are fully accessorised.
One example is remembering to never leave a flight case lid closed with the catches open otherwise the next person who comes along might pick it up and next thing you know the kit has crashed to the ground.
When any scratch on valuable and highly expensive lenses causes permanent damage managing kit the right way is central to the job.
Most importantly, after three months, VMI management team will appraise each Intern's skillset and attitude with an eye to making them a full-time job offer.
"We're keen to inspire active learning so that what a person puts in, they get out," said Bassett. "Three months is about right since it'='s a good period for people to develop an interest in particular areas. The more they spend looking operationally at using a camera and delving deep into its mechanics and menus, learning to use a Phantom or Alexa, the better and more useful they will be to crews on location.
"A lot of camera assistants are really valued as a consequence of being able to think outside the box," he added. "You get a wide experience on the camera floor here at VMI. You're involved not just in multi camera drama but also wildlife, commercials, pop promos, documentary and also super slow-motion shooting and indie films all of which have slightly different demands."
The operational and technical demands might see an apprentice assisting to build custom kits to shoot a fit into cars or rig multiple GoPros for use on an aeroplane. They gain the experience to accessorize, configure and afterwards to troubleshoot - and then fix anything that's not working.
One of the interns who came through VMI's programme is Jack Cherrington. "I joined VMI after three years of studying media at University and quickly realised I knew nothing of the true ins and outs of the industry," he said.
"I originally thought I'd go into editing but over the three-month programme I figured out that the practical aspects of the job here was something I really enjoyed. It's very technical which speaks to the way I wanted to work and they decided to keep me on and train me."
In short succession, Cherrington has moved from intern to trainee and junior prep technician. Now he's a senior prep technician responsible for putting together kit for crews.
"No two jobs, or kits, are the same," he said. "I enjoy suggesting different camera and lens options and building different packages of equipment for people. It's completely varied and there's a lot of job satisfaction."
www.vmi.tv/about/careers
Top Related Stories
Click here for the latest broadcast news stories.