Broadcast News
03/12/2018
Sennheiser Launches Two New Premium Bluetooth Headsets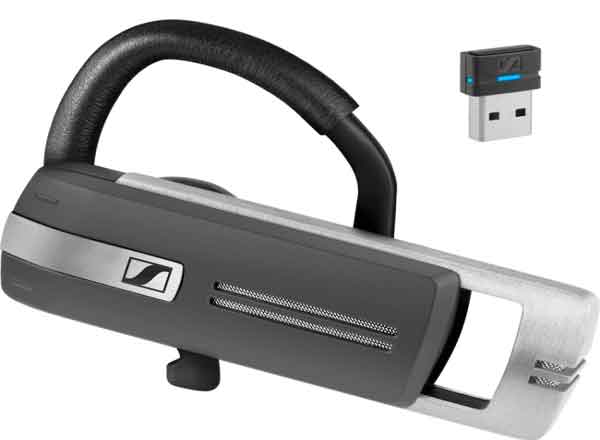 Sennheiser has launched two new premium Bluetooth® headsets for mobile professionals that offer a fresh new look and better conversations thanks to the audio specialist's high quality sound.
The PRESENCE™ Grey UC is optimized for Unified Communications, providing multi-connectivity and seamless switching between softphone and mobile calls. Meanwhile the PRESENCE™ Grey Business is focused on use with mobile devices. Both however, offer the same best in class audio for clearer and more natural communications – for both the user and the person they're speaking to. Within the sleek, stylish and lightweight headsets, Sennheiser has implemented a suite of exceptional technologies that make every conversation effortless: The 3 digital microphone system, SpeakFocus™ and WindSafe™ technologies provide clearer sound to listeners and deliver best-in-class Sennheiser Voice Clarity to optimize speech intelligibility even in challenging environments.
As premium headsets from audio specialist Sennheiser, both new headsets have been created to offer a new level of mobile freedom, thanks to ground breaking sound technologies that overcome the drawbacks associated with traditional headsets. Whether you are in the office, in the car or outdoors you can be confident that you will hear everything and be easily heard.
Sennheiser Voice Clarity delivers best in class sound, ensuring a clearer and more natural audio experience for all parties on the conversation. The headsets' unique SpeakFocus™ technology enhances voice clarity for optimized speech quality in all sound environments. Conversation stays clear even in adverse weather or noisy environments thanks to WindSafe™ technology that reduces wind noise in outdoor situations and the advanced Own-Voice-Detector, which reduces background noise for listeners when headset user is not speaking. For greater comfort and hearing protection, both headsets also shield users from acoustic shock and sudden sound bursts thanks to Sennheiser's ActiveGard® technology.
The PRESENCE™ Grey UC offers the ideal choice for those requiring a headset for use with both softphones/PC and mobile devices. Multi-connectivity with both PCs and smartphones allows for seamless switching between softphone and mobile calls. The headset has been designed to simplify set up and daily use, while optimization for Unified Communications and Skype for Business certification ensure plug and play compatibility. When used with the supplied dongle, the PRESENCE™ Grey UC has an increased wireless range of up to 25 meters, dependent on the environment.
The PRESENCE™ Grey UC comes supplied with a protective carry case for easy storage or transport.
Both new PRESENCE™ Grey headsets have looks that match their advanced features and sound performance. While feature-packed, the headsets' slim iconic designs and short aluminum microphone boom arms represent the ultimate in discretion for business professionals. They also offer a truly contemporary user experience, with helpful voice prompts that make the headsets effortless to operate on the move. PRESENCE Grey headsets also let you tap into Siri or Google Assistant at the touch of a button allowing for voice interaction with your mobile world.
For increased comfort and flexibility, the headsets provide a choice of wearing styles including a padded ear hook and an optional headband. User comfort is also assured by a choice of ear bud adaptors in four sizes. And when your working day gets demanding, the headsets keep pace thanks to their outstanding talk time, with of up to 10 hours' narrowband and 8 hours' wideband call time.
www.sennheiser.com
Top Related Stories
Click here for the latest broadcast news stories.