Broadcast News
30/11/2018
Altered Images Provide 12-Camera Fixed Rig For 'Britain By Boat'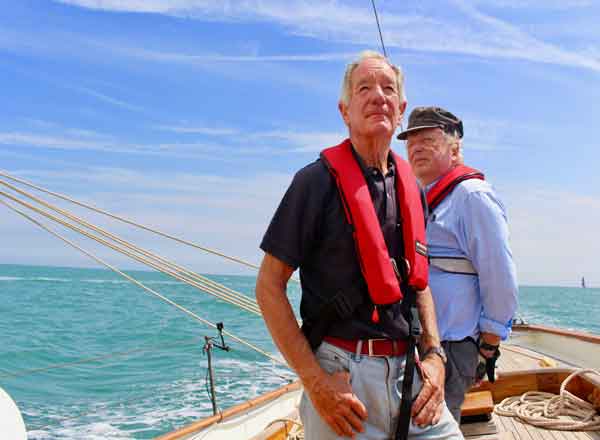 Altered Images was commissioned to design, install and support a lightweight, energy-efficient 12-camera fixed rig for the new series Britain by Boat, created by independent production company Knickerbockerglory.
The programmes reunite former newsreader, Michael Buerk, and political journalist, John Sergeant, after 30 years, as they take to the high seas exploring Britain's coastline by yacht. The series is currently airing on Channel 5.
The challenge for these two amateur sailors is to explore Britain's glorious coastline whilst taming the magnificent Bonaventure, a 50-foot traditional yacht. It's not a voyage for the faint-hearted, as John and Michael navigate labyrinthine sandbanks, treacherous tides and Europe's busiest shipping lanes. To buoy their spirits, they'll encounter the best of the British coast – from crab-fishing in Falmouth, to racing dingies near Portsmouth, to joining the RNLI off the picturesque Cornish coast.
Altered Images faced many challenges and responsibilities with this project; the least of which was how to install cameras to be both stable and completely harmless to the £1m hand-built craft's structure and finish. The production team also tasked them with making the installed cameras very discreet so that the on-screen talent would forget they were being filmed. This resulted in a more natural engagement on screen for the production.
Altered Images specified eight IP67-rated cameras up on deck, with four Panasonic PTZ cameras below deck, all controlled and recorded in one of the aft cabins. "Helping the cameras blend in below deck – safely and without any screws, nails or sticky tape – was an extra challenge," commented Tony Gill, Altered Images' managing director and unit manager at the time of filming. "In the end, we decided to manufacture temporary replica upholstery that blended into the surroundings in order that we could fix the cameras to those, then we were able to swap back to the original furniture after the shoot."
Isolated audio was captured from eight sources, including radio mics, with a live stereo feed also recorded during the shoot. The cameras and audio were synchronised via time-of-day timecode, as were any shoulder-mounted cameras that were used on the boat or shore, removing the need for cables to make boarding and disembarking safe for both the talent and crew.
The whole rig used just 400 Watts in energy – equivalent to just four tungsten light bulbs – which meant that Altered Images could use an intelligent Lithium Ion battery rig and achieve up to 40 hours' recording time between charges. The rig's health was monitored from shore by the following safety boat, with a road-based support crew to enable the production to keep the onboard headcount within maritime allowances.
"The task that we gave Altered Images was a complex one, since we needed them to rig a 50ft yacht with hot-head and waterproof static cameras, as well as a gallery suitable for small compact spaces and rocky seas," explained Fi Maclay, Knickerbockerglory's Production Manager on Britain By Boat. "As always, Tony and the team from Altered were wonderful to work with – no task was too small and we could rely on them even in the most difficult of circumstances."
www.alteredimagesltd.com
Top Related Stories
Click here for the latest broadcast news stories.