Broadcast News
25/09/2018
Atomos Ninja V Touchscreen Monitor/Recorder To Feature At Photokina 2018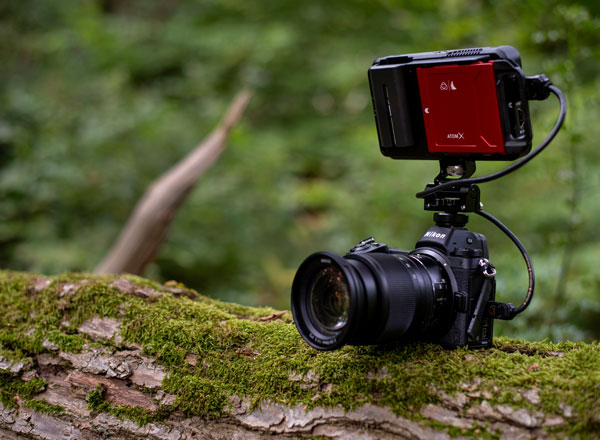 Atomos' latest Ninja V 5" HDR touchscreen monitor/recorder will be demonstrated alongside a number of leading cameras at Photokina 2018.
Canon, FUJIFILM, Nikon, Panasonic and Sony will be showcasing the Ninja V on their booths.
Atomos 4K HDMI monitor/recorders like the Ninja V transform the latest photo cameras into video shooting machines by recording 4K video directly from the camera in high quality. Depending on the camera used, frame rates of up to 60fps can be recorded in industry standard Apple ProRes or Avid DNx codecs for easy editing. The Ninja V combines this with professional grade monitoring on a calibrated HDR 1000nit high brightness screen that allow users to compose and focus, using the sensors' full dynamic range, even outdoors. An extensive range of exposure and monitoring tools includes automated presets for popular cameras and user defined creative looks. The AtomHDR engine makes creation of HDR or standard video simple. Professional level audio connections and monitoring are also on Atomos monitors.
The launch of the Ninja V coincides with several new mirrorless cameras with 4K 10-bit HDMI output and extended Log gammas curves that are used by the Ninja V - giving the user instant, simple HDR production. The new Canon EOS R, Nikon Z6 and Z7 and Fujifilm X-T3 now join the Panasonic GH5 and GH5S in taking full advantage of the Ninja V 4K 10-bit 422 recording to Apple ProRes or Avid DNxHR.
"You can make your $100K production look like a $1m dollar movie," said cinematographer Ken Stachnik, whose low budget Denise Richards and Mischa Barton movie 'The Toybox' was shot almost entirely on the Sony A7S and Atomos 4K monitor recorders.
"It will allow young guys and girls to shoot almost everywhere their stories take them. It's that freedom and creativity that this combination gives you, and that to me is going to give us a whole new set of movies.
"Richards wanted to see a couple of shots early on, I think to make sure we weren't totally crazy for using this tiny rig. Then she pulled us aside and said, 'I think this is great.'"
Atomos monitor/recorders bypass the usual lower bit depths, data rates or hard-to-edit internal codecs. Instead, the Ninja V and other Atomos devices connect directly via HDMI and record 4k video in high quality up to 10-bit 422 colour, with easy-to-edit, Apple ProRes or Avid DNx formats which are used worldwide in professional TV and video productions. The latest cameras can also output log, recording more dynamic range from the sensor. It appears flat when viewed directly but has greater flexibility when post-processed. Atomos devices like the Ninja V can record Log video, simultaneously showing the user how the images will look.
The Ninja V features the new AtomX expansion module system, offering additional functions via a special high speed data/audio/video port. The first two units are the AtomX Ethernet/NDI module, which allows mirrorless cameras to attach to professional NDI video networks, and the AtomX Sync module, which has wireless synchronisation of multiple Ninja V equipped cameras, plus timecode and Bluetooth control. The possibilities are endless.
Atomos also offers a full line of other monitor recorders with 7 and 19 inch models. The Shogun Inferno and Sumo19 models feature the new Apple ProRes RAW codec option when used with compatible cinema cameras. Designed to be the new standard in video recording, it is a true RAW codec built from the ground up for maximum speed and image flexibility when used with Mac. Apple's optimisation makes it possible to edit ProRes RAW video with most recent professional Mac computers. Atomos CEO Jeromy Young has publicly called for the major camera makers to give consumers the option to record better video by enabling RAW output from their mirrorless models too.
www.atomos.com
Top Related Stories
Click here for the latest broadcast news stories.