Broadcast News
31/08/2018
SubtitleNEXT Named Silver Sponsor Of Languages & Media Conference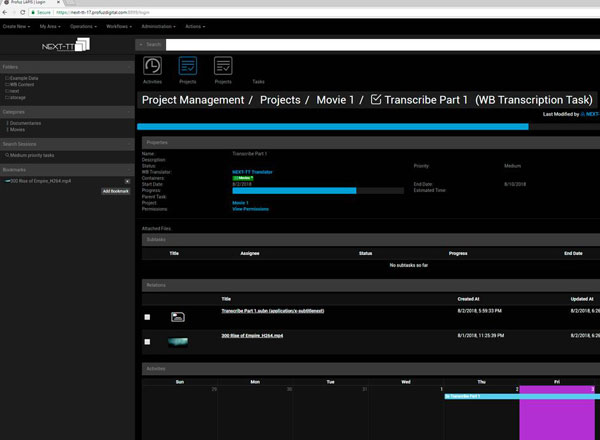 PBT EU's flagship product line SubtitleNEXT has been named as the official Silver Sponsor of the Languages & The Media 2018 Conference in Berlin.
This year marks the 12th international conference on language transfer in AV media, taking place from 03–05 October. Major themes at the conference, sponsored by PBT EU along with big brand names such as Netflix, VSI and STAR, will include new distribution models, language tools, inter-lingual transfer, accessibility, the future of work and quality standards.

The conference will examine crucial challenges and the way in which cutting-edge technologies like SubtitleNEXT are changing how AV media is delivered globally and how it's consumed across languages.

It will be accompanied by an exhibition, whereby international solutions providers will showcase a range of innovative products and services. It provides an opportunity to learn about the sector's pioneering timed-text technologies including SubtitleNEXT. Visitors to the conference can discover how SubtitleNEXT can be tailored to suit and adapt to specific requirements. As part of the lecture agenda, PBT EU representative Vladimir Stanic will present on their new web-based hybrid platform NEXT-TT which gives operators the best of both worlds with desktop and Cloud compatibility.
The complete NEXT-TT solution has resulted in new capabilities enabling extremely fast and efficient generation of managing timed-text, dubbing and localisation services of any type of content, or managing teams of translators, audio-visual professionals, and creative freelancers, providing an ultra-secure and super-fast private workspace, toolsets, and workflows for ensuring quality. 

Sales Director at PBT EU, Alexander Stoyanov said: "We are thrilled to sponsor and support this important conference which is a high-level podium for all professionals involved in captioning, subtitling, timed-text, interpreting, and translating across a variety of media. Language essentially shapes who we are and in turn shapes the industry. How technology fits into the equation as a disruptor provides challenges as well as opportunities."
CTO of PBT EU Kamen Ferdinandov added: "In my view, we are at a historic turning point in our civilisation and it is imperative to discuss the implications of how new solutions are making languages more accessible and affecting communications across cultures through media. So, this will be a fascinating topic threading throughout the three-day period. As a company, we have embraced these changes  ahead of time. We are very excited to present the adaptable capabilities that SubtitleNEXT already offers to help solve the challenges facing subtitlers today in a market that demands constant content at a rapid pace."
SubtitleNEXT is a user-friendly, innovative, customisable, intuitive and affordable timed-text software platform. Already adopted across various multimedia industries, it is designed for personal and professional use. It easily adapts to any settings, resolutions, and formats such as AR, MR, VR, 8K, 4K, 2K, HD, SD, 3D, UHD across online video, TV, film, theatre, concerts, festivals, conferences and events. It can be applied throughout the entire video production process from concept to distribution.
subtitlenext.com
Top Related Stories
Click here for the latest broadcast news stories.