Broadcast News
08/08/2018
JoeCo Brings British Built Recording Solutions To IBC 2018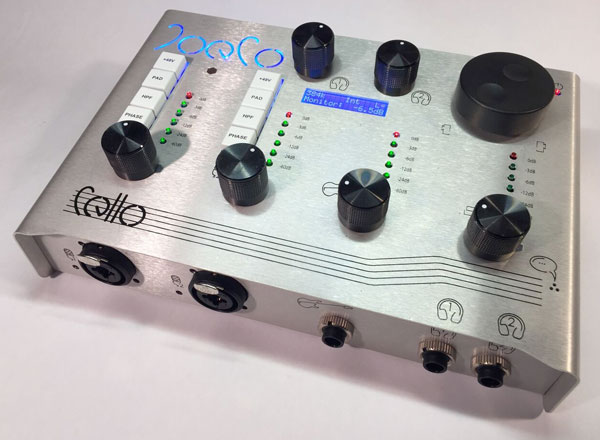 JoeCo returns to Amsterdam's RAI with industry standard recorders and new UK-built solutions including 384 kHz desktop interface.
Hailed as one of the broadcast sector's most trusted brands, JoeCo will return to the IBC exhibition this September not only with its award-winning multi-track recorders, but with a new desktop audio interface that offers extraordinary 384k recording. Named Cello, the interface will be awaiting visitors in Hall 8, booth E97, from September 14th-18th.
As the company's first desktop interface, Cello represents a departure for JoeCo, but the sleek new product shares a common heritage with the rest of the company's range.
Based near to the historic British city of Cambridge, JoeCo is a small company by design – the founder, Joe Bull, is a deeply respected industry veteran whose experience within the audio realm is such that he was instrumental in the creation of the Broadcast WAV format now used by his own BLACKBOX and BLUEBOX recorders.
That experience is part of the reason for Mr Bull's determination to maintain unapologetically high standards in manufacturing and design. Every product that bears the JoeCo name is designed, manufactured and hand-assembled in the UK.
"There is no better way of producing a completely reliable product than keeping the manufacturing process close to home," Mr Bull explained. "We know we're not always the cheapest solution in the market, and we don't want to be. Our aim is to build products that are completely reliable where failure is not an option, such as live TV, and which also offer the best sound on the market. That's what we've been delivering for more than 10 years."
The most famous JoeCo product range is the BLACKBOX family of multi-track recorders. What began a decade ago with the seminal BBR-1B has now grown to encompass versions of the recorder with both Dante and MADI capability, with the BBR64-DANTE and BBR64-MADI respectively, as well as built-in, JoeCo-designed preamps with the BBR1MP. More recently, BLUEBOX was launched, providing a 1U rackable DAW interface which also delivered the world's best back-up solution for computer-based recording set-ups, with simultaneous capture of all source audio to USB 2.0. With BLUEBOX, if your laptop fails, your audio remains safe – even if the power fails.
Three models are included in the BLUEBOX range. The BBWR24MP offers 24 individually switchable mic/line inputs with JoeCo's own preamps on every channel. The BBWR08MP has eight individually switchable mic/line inputs as well as 16 channels of dedicated balanced line inputs. Lastly, the BBWR24B has 24 balanced line inputs, 16 Adat Lightpipe inputs and 24 balanced outs.
Cello offers its own impressive list of specifications. Created to deliver the ultimate combination of high-end performance and classic design, it is a 22 input, 4 output USB 2.0 interface for Mac and PC, boasting a true analogue front end. With a 125dB dynamic range and up to 384k recording plus Adaptive Conversion technology and JoeCo's new Top+ algorithm for adding high-end sparkle, energy and expanse to recordings.
All of the above technology will be available for demonstrations during IBC. Crucially, even as Cello makes its IBC debut, the company will be offering its guests a sneak preview of the soon-to-be released BLACKBOX. Named the BBSG24MP, it will be the first BLACKBOX with a Waves SoundGrid enabled I/O.
"It's always a pleasure to meet our customers at IBC and give them a demonstration of our technology, particularly you see them realise how much easier their working life can be with JoeCo technology in their kit," concluded Mr Bull.
www.joeco.co.uk
This article is also available in the August edition of Broadcast Film & Video. Available here.
Top Related Stories
Click here for the latest broadcast news stories.