Broadcast News
25/07/2018
Aurora Lights Up ITV2's 'Love Island'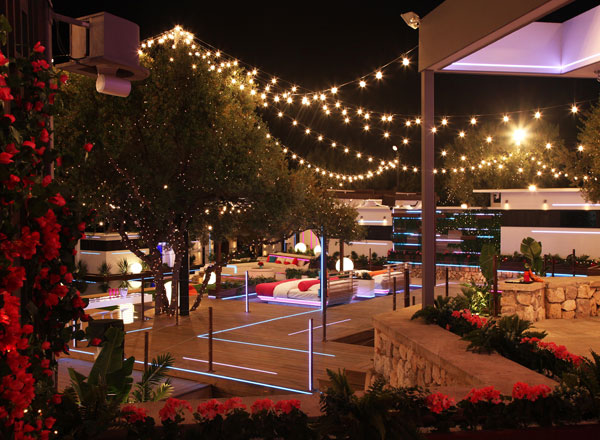 Aurora Lighting has been working with LD James Tinsley and crew on the current series of ITV2's hit reality TV show, 'Love Island'.
The lighting team have returned to the villa to build the setting following a successful last series.
Aurora have delivered a full location package to assist in creating the show's magical setting. Along with a selection of Fresnels and PARs used for ambient illumination, of particular note is the creative mix of vibrant RGB LED flex and practical fixtures including the 2000m of festoon that frames the surrounding gardens, adding a fairy tale like quality to the exteriors.
Speaking about the production, LD Mr Tinsley said: "On such a high profile production it is essential to have the right equipment for the job. We have a very specific lighting kit list for this series; from distribution to dimming and control. I have been really impressed with Aurora's ability to provide the crew with everything they required, enabling us to create the desired looks both inside the villa and within the garden areas."
Aurora has also been supporting sister production 'Love Island: Aftersun'. Filmed closer to home in front of a live audience at Elstree Studios' Stage 8, Mr Tinsley has followed the style of the main show to mirror the look at the island using custom LED signs and LED track floating around the set.
Aurora Project Manager Ben Taylor added: "There are obvious logistical challenges surrounding delivery of a lighting package to a fairly remote location, even more so when it is for live broadcast. James and his crew have once again done a stunning job in creating the look for Love Island and continuing it through to Aftersun. The series has an immense following so it's great to have been able to play our part in setting the scene for the show."
auroratv.co.uk
Top Related Stories
Click here for the latest broadcast news stories.