Broadcast News
25/07/2018
VariCam LT Used On Kawasaki Motors Shoot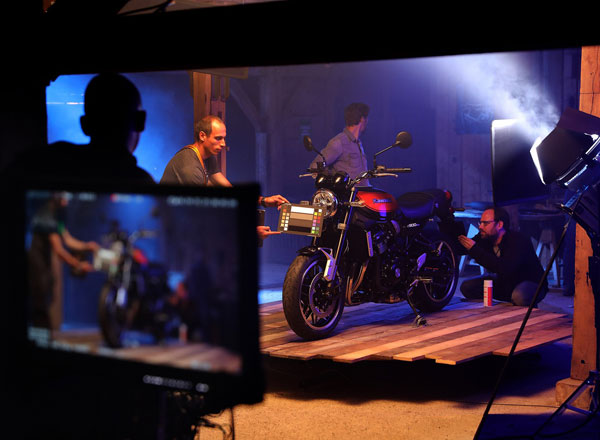 Panasonic's cinematic camera, the VariCam LT, has been used by directors Henk van den Doel and Maarten Kempen on a recent shoot for Kawasaki Motors Europe.
The directors were hired by F&P Media to produce an online advertisement on the car company's new 2018 model Z900RS.
Director Henk van den Doel said: "The original VariCam has always had our interest, and when we heard Panasonic had finally brought out a new model, we were very excited. We looked into it and decided to take the plunge. It is a combination of Panasonic's RAW camera and the AF100, meaning it serves all purposes for us.
"We hardly did any tests with the VariCam LT before purchase. We went and got some hands-on experience with the camera, but we didn't even put it through a test chart or anything. We saw images online and knew it was what we were looking for. Based on its first showreel, we were confident that we could take it to where we wanted it to go."
A key unique feature of the VariCam line-up is the dual-native ISO sensitivity of 800 and 5000, allowing the operator to produce clean images in lower-light conditions, whilst maintaining the full 14+ stops of dynamic range at both ISO levels, providing the directors more flexibility and opening up new possibilities.
Mr van den Doel added: "A good camera is never a replacement for mediocre lighting. But when working on the Kawasaki project, everything was in a controlled environment, so we had full control of the lighting which was created by Director of Photography, Maurice Bossers. He did a terrific job in creating the look and feel we went for. By creating the look on set, it took little further colouring. It was nearly straight out of the camera. The images that came out on the monitor were wonderful."
The video was selected in Adforum's 'Best Ads Top 5 Worldwide' in November 2017 and can be viewed below.
business.panasonic.eu/broadcast-and-proav
Top Related Stories
Click here for the latest broadcast news stories.