Broadcast News
12/06/2018
disguise Servers Drive Visuals For Noel Gallagher's High Flying Birds Tour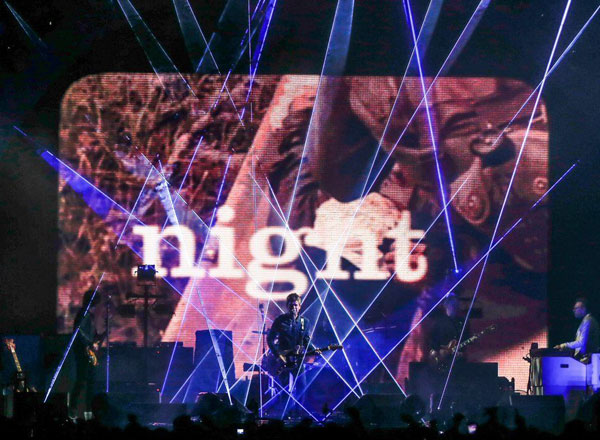 disguise has deployed two of its 4x4pro media servers to deliver big screen visuals for the Noel Gallagher's High Flying Birds world tour.
The 'Stranded on the Earth World Tour' began in Detroit in February and is now playing a series of European and UK dates.
The creative vision behind the design of the tour was created by David 'Fuji' Convertino of The Floaty Robot who serves as the tour's Lighting Designer and disguise operator. Mr Fuji drew his inspiration from the silver screen; a scene in Alejandro Jordowsky's 'The Holy Mountain' provided the concept of which the entire visual for the tour would be based on.
"There was one image from it that looked like Radio City and the Hollywood Bowl merged together. Noel asked if we could do something like that as a stage design and that became the inspiration for the semi-circle screen masks," explained Mr Fuji, "I didn't want anything to impede the semi-circle - even though right now we have straight trusses, if you block those it ruins the imagery. Instead of downstage truss, we have an open look and just side-light the band so everything is shadowed. I think it's pretty cool that this was all based off just watching that movie!"  
The tour design features a 40x28-foot upstage LED wall and two 16x16 IMAG screens.
"The upstage wall has a drape to make it a semi-circle with lighting trusses arched around it to give a Hollywood Bowl-Radio City Music Hall feel," said Mr Fuji.   
The 4x4pros, one master and one understudy, were chosen for their speed for content playback, integrating seven camera inputs and running Notch realtime effects.
"It's vital that everything stays in sync on the screen, and disguise has not missed a trick," added Mr Fuji. "The master 4x4pro inputs four chains to four inputs of a Blackmagic Design ATEM router while going across three outputs."  
He credits a number of people with helping him choose and use disguise.
"Smasher, U2's Video Director, introduced me to disguise and Michael Goodwin designed the system. Andy Babin, the best Video Programmer I have ever worked with, spent a few nights teaching me how to use Notch and making Notch effects. Since this was my first venture with disguise I would have been lost without him."   
disguise's SockPuppet feature has been a key factor in enabling Mr Fuji to adapt the tour as required during its run.
"This is a tour that can differ in venues and crew size, and I'm tasked with doing lighting and video direction," Mr Fuji said. "SockPuppet is fast and is set up for my specific use in terms of programming and playback."  
He also gave a special shout out to the system's visualisation capabilities, and hailed them "great for showing the artists and content creator how things will look".
www.disguise.one/en/
Top Related Stories
Click here for the latest broadcast news stories.