Broadcast News
12/03/2018
RM Multimedia Revealed As New Disguise Sales Partner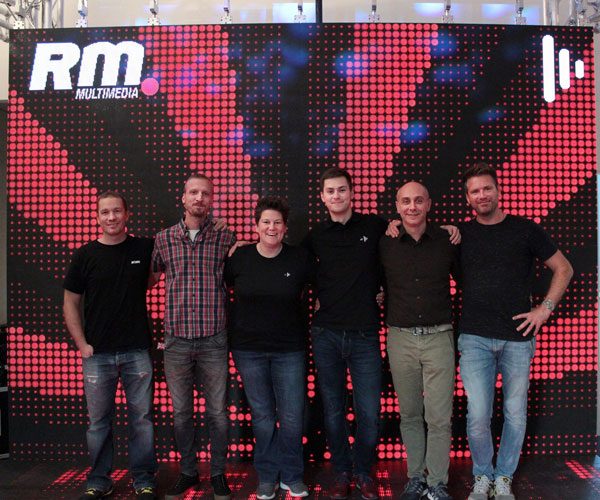 RM Multimedia has been officially declared as the new disguise sales partner.
The firm will now join the global disguise partner network, offering products and services to help creatives and technologists realise their vision.
RM Multimedia is an Italian multi-brand distributor for high profile shows, working closely with customers to offer the best possible support and products. The company work on a wide range of different events, from corporate, architectural, cruise ship, theatre and concert touring.
RM Multimedia's Sales Manager, Marco Bartolini, added: "Our company's vision is to create and maintain a relationship of trust and mutual respect with our customers. We want to ensure the relationship doesn't end at purchase but instead, it's at that moment it begins."
The disguise integrated workflow solution is being used at the heart of some of the world's most exciting cultural experiences, from concert touring, broadcast, theatre, fixed install and most recently, film. Its software on hardware solution lets users visualise, design and sequence projects wherever they are and when it's time to deliver, users can pick one of its powerful hardware options to seamlessly turn their concept into a creation. RM Multimedia's new partnership with disguise means they can now provide its customers with the vast capabilities the technology can offer.
Last summer, disguise joined the RM Multimedia team to host an Interactive Open House, showcasing the powerful disguise and Blacktrax combination, and in an exclusive first for Italy, the award-winning gx range. Developed to support real-time, generative content, the gx range features fastest professional GPU currently available as well as a 2-year Notch playback license.
The experienced RM Multimedia team have also undergone disguise Fundamental Training, to ensure they have a thorough understanding of the potential the disguise technology can offer.
disguise EMEA Sales Director, Sarah Cox, said: "We're really excited to see where RM Multimedia take disguise in their region. They've achieved some very special projects and importantly reflect the disguise value of always striving to offer the best level of support to their customers." 
RM Multimedia are currently using disguise for a number of projects, including the musical production of "Romeo e Giulietta - Ama e cambia il mondo" which is currently showing at the Linear Ciack Theatre in Milan. 
The RM Multimedia team will also be showcasing the disguise solution at the 3rd edition of the MIR Music Inside Rimini exhibition, which takes place 06-08 May. 
www.disguise.one/en/get/partners/rm-multimedia/
Top Related Stories
Click here for the latest broadcast news stories.