Broadcast News
08/06/2018
Production, Pro-Audio And Innovative Tech To Take Centre Stage At BVE 2019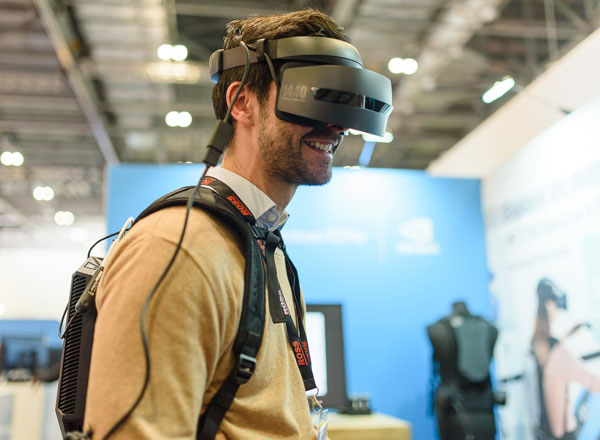 Broadcast Film & Video exclusively talks to Event Director Daniel Sacchelli about the continued success of the BVE Show and the ambitious plans for next year's show.
Expect more announcements to be made over the few months to see what the future holds for BVE.
BVE is early out of the blocks this year, sounds to us like the planning for next year's show is well under way?
We plan our shows well in advance, working on the next campaign before the current one is complete, to ensure we get off to a fast start. Of course as the year goes and new information is available, we use this additional intelligence to tweak that proposition and ensure that it is absolutely in line with the industry. Our key customers and visitors have given us very clear feedback of what they would like to see from BVE and that's allowed us to get ahead of the curve and implement those things quickly. We have also been busy creating key advisory boards made up of heads of post-production, CTOs, DoPs and content creators to ensure we deliver the best educational content at BVE 2019.
Key Decision makers really can make or break a show for the exhibitor. Can potential exhibitors expect to see this calibre of visitor at the show?
Absolutely. The quality of our audience increased this year with 56% of our visitors now being C-Suite professionals, Directors, Owners, heads of department and other key decision makers & budget holders. We have already begun doubling-down on our efforts this year to ensure that trend continues and we drive the quality of the event even higher.
The spectrum of visitors seems to get wider each year, now including top Premiership football clubs and Houses of Worship, why do you think this is?
We all know that the breadth of organisations now creating, managing and distributing content is greater than ever. We've capitalised on this uplift to welcome more people from what we would have previously considered 'non-traditional' sectors, which are now absolutely essential to the ongoing success of the show and extremely interesting potential customers for our exhibitors. When you add news organisations, publishers, corporates, commercial brands, fashion houses, government agencies, educational institutions, retailers and more, you are presented with an ecosystem that is absolutely unique to BVE.
With so much information available on the web, is there really any need for people to visit exhibitions?
64% of our audience still cite 'comparing, testing and getting hands on with products' as the primary reason for attending BVE. Online reviews and the competitive nature of pricing online can be beneficial but the fact remains that people still place incredible importance on seeing and touching products in person. The networking opportunities that exist at the show, especially given our diverse visitor base, is also something that cannot be replicated away from a live setting.
There were some great speakers at BVE last year, like Mark Brownlow of award winning Blue Planet II, Oliver Stapleton and James Medcraft, who do you think made the most impact and any intel on speakers for next year?
At BVE 2018, we delivered our largest and most senior speaker line-up which featured leaders from throughout the broadcast and production industry. Suzanne Mackie, the creator and producer of 'The Crown' and Ben Lambert of ILM showcasing the VFX behind 'Star Wars: The Last Jedi' both wowed audiences. The BBC Natural History Unit always makes a big impact on our audiences and are in demand because of the technical excellence and ingenuity their directors and crews show in delivering their breath-taking work. We expect their top directors to be involved again next year, to yet again inspire the BVE community. The UK has a huge amount of talent and technical expertise, and in terms of the 2019 event, we are again spoilt for choice. We will continue to champion the best of the British production and broadcast industry and feature the people behind the projects and technical innovations that drive our industry forward.
In your opinion have mainstream broadcasters reacted quickly enough in what has been a monumental change in viewing habits over the last five years?
We would be hard pressed to find a period where technology has moved quite so rapidly and disrupted the landscape of an industry quite so quickly. The next five years show no signs of slowing down either! The mainstream broadcasters reacted well but the challenge now is trying to invest in infrastructure in a way that isn't going to be outdated in 6-12 months. That's a difficult balancing act. However, broadcasters seem to be acknowledging the value of working with external technology providers in order to continue to adapt and thrive in the face of further change.
What will be the technologies to watch for in the remainder 2018 and early 2019?
We will continue to see innovation in IP and cloud workflows. We are already seeing the shift to collaborative working and cloud-based technologies being widely adopted as a cost-effective way to scale up during busy periods. That is only going to continue and become a standard way of working.
Artificial intelligence and its applications will continue to develop, and offer interesting innovations in post-production. I would also expect to see some more use cases come forward around block chain applications.
With the governments industrial strategy being announced and the additional funding becoming available for small start-ups, and many of the national broadcasters also investing in content experiences, I think we will see some exciting developments in MR and AR, as well as the VR content space. I think this is a really exciting time for companies developing technology in this space and I can't wait to see what's showcased at BVE in 2019.
Amazon and Netflix have been the big game changers these last few years, will they dominate the market for the foreseeable future or can you see any other big names entering the ring?
You can't underestimate the change that these organisations are having on the broadcast and content creation world. Whilst content is king, distribution has become the real powerhouse and these companies will continue to disrupt the ecosystem.
We saw partnerships developing between broadcasters and online giants and also broadcasters collaborating with each other. We would expect broadcasters to continue to take advantage of content and distribution partnerships as it opens up revenue streams to global audiences. So whilst they have undoubtedly interrupted the broadcast landscape, they also offer interesting opportunities to broadcasters and UK based production companies who are known for their quality and creative content.
We are hearing that there are exciting ideas for BVE 2019, any sneak previews?
We've already made some announcements to our exhibitor base about the changing floor plan which has been done not as a superficial touch but to offer new opportunities for our core supporters and new customers. We are also working on launching a Live Production Zone and an Immersive Dome to offer our community the opportunity to experiment and trade in the latest camera equipment, pro-audio tools and immersive technologies. In the coming weeks, we'll be making more detailed announcements to the industry about what the future holds for BVE.
This article is also available in the June edition of Broadcast Film & Video.
Top Related Stories
Click here for the latest broadcast news stories.