Broadcast News
06/06/2018
Cuescript To Showcase IP-Ready Teleprompting Systems At MPS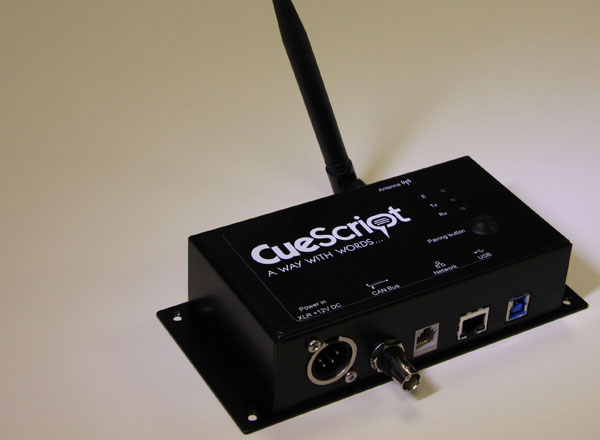 Cuescript is to showcase its range of IP-ready teleprompting systems at the Media Production Show in London, 12-13 June.
The systems offer customers a wide choice of connectivity including IP, HD-SDI and Composite video inputs, allowing broadcasters to make the transition to IP-based prompting as and when they are ready.
Brian Larter, Director, CueScript, said: "CueScript's success lies in listening to our customers and understanding their needs. Broadcasters across the world are at different stages of the transition to IP – some are going all-in, some are using hybrid systems as their infrastructure evolves, and others just aren't ready yet. No matter what their position, CueScript's systems offer the latest teleprompting technologies with future-proof connectivity options.  
"Customers need to check the proposals from other vendors, as you cannot rely on brand names or the understanding that these brands once had."  
The main hub of the CueScript IP-ready prompting solution is the CueB, which is the engine that offers connection via Ethernet or USB, and the connectivity of near limitless scroll controllers that can also be connected over IP. This gives total flexibility to a broadcaster in how they introduce and use prompting in their workflow. The CueB provides 2x HD-SDI and 2x Analogue signals as standard. Multiple CueBs can run independently or simultaneously, and can be rack mounted in the C.A.R or anywhere in a studio complex. An openGear version is also now available.  
The CueScript system does not require any add-on third party converters. The system provides SDI Digital signal, HD-SDI 720p50, 720p59.94, 1080i50, 1080i59.94, Composite PAL@25Hz and NTSC@29.97Hz.  
All of CueScript's wired and wireless scroll controls also offer a choice of connectivity. Users are able to connect their desk, hand and foot controllers either by USB locally to the computer, by Ethernet within the network infrastructure, or by CAN bus using standard coaxial cable, resulting in complete plug-and-play connectivity and flexibility across the product range.   
The wireless controllers can be used up to 300 meters from the receivers with no drop in connection. CueScript's controllers - which are designed specifically for the broadcast environment and with on-screen presenters in mind - allow the freedom in the studio to fully control the prompter speed and navigation within a production or news runorder.  
A broad range of CueScript's IP-ready prompter units and accessories - which are in use by leading broadcasters around the world - will be available for demonstration on Stand 202 at the Media Production Show, which takes place at London Olympia from 12-13 June.
cuescript.tv
Top Related Stories
Click here for the latest broadcast news stories.