Broadcast News
18/04/2018
Popular Spanish Newspaper Bolsters Production With Vantage And μVRC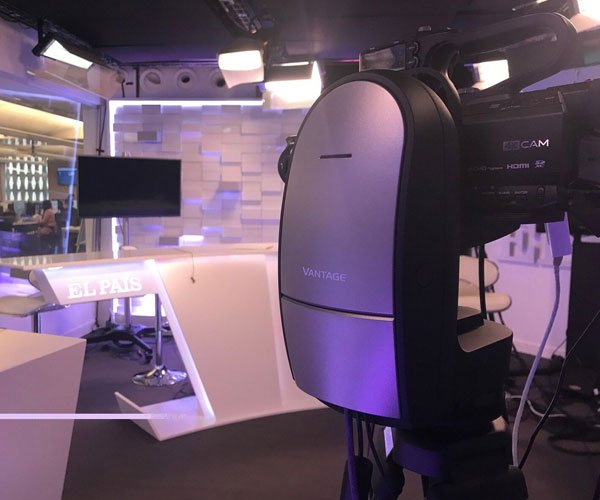 Popular Spanish newspaper El Pais has deployed Vinten's Vantage robotic camera and μVRC controller to support its live-video production operation.
Vantage and μVRC provide a space-saving, labour-saving pan-tilt-zoom (PTZ) camera solution for capturing and posting more than 1,000 live videos per month to the El Pais Facebook channel. This covers reporting both in studio or live streamed from the field.
El Pais needed a robotic solution for the TV studio located in the middle of its newsroom. The goal was twofold: save space and optimise the cost of staff. El Pais achieved those goals by installing three Vantage heads integrated with JVC professional camcorders in the newsroom studio; operators use the μVRC in a control room in another part of the facility.
"The three words that best describe Vantage are flexibility, effectiveness, and quality. Vantage is a compact camera system that is just the size we needed for our newsroom studio, yet we can also take it with us on location. And it works perfectly with μVRC, which gives us all of Vinten's broadcast-quality movement and control expertise in a cost-effective system built for small studios," said Carlos de Vega Gonzalez, deputy director of video and photo at El Pais. "During the Catalonia elections last December, we were on the air for about 12 hours. Vantage and microVRC make it possible to do coverage like that with efficiency and relative ease."
In a compact and lightweight form factor, the Vinten Vantage enables broadcast-quality video and superior motion control at the same price point as a traditional PTZ camera head. Because it is built to support a wide range of traditional studio POV, cine, and pro-video camcorders from a variety of manufacturers, the Vantage gives users the freedom to choose the camera and lens that best meet the requirements of each project. As the first controller of its kind, the μVRC is the perfect companion to the Vantage, giving the camera head even greater versatility and flexibility for enterprise video capture and allowing operators to control multiple units for various shooting angles.
The Vantage and μVRC system allows El Pais to save space in a bustling newsroom built primarily for gathering stories, not for video production. It can also use the cameras both on the set and in the field, which not only maximises return on equipment investment, but also comes in handy when reporting from live events outside the studio. Finally, because camera operators can work remotely through the μVRC controller — whether the shoot is taking place on or off the set — there's no need for them to be at the shoot location, so El Pais can make the best use of staff resources.
SDI Video - Sinopsys Distribución Integral integrated the project with support from consultant Moncada. Both companies are in Spain.
"With the Vantage and μVRC system in place, El Pais can create great news and event coverage and live-stream it to its social channels more easily and affordably than ever before, so its more than 100 million unique monthly visitors get the quality they'd expect from an outlet of El Pais' stature," said Ginny Grove, product marketing manager, Vinten Automation.
www.vinten.com
Top Related Stories
Click here for the latest broadcast news stories.