Broadcast News
11/04/2018
AJA Introduces Five New OpenGear Cards At NAB 2018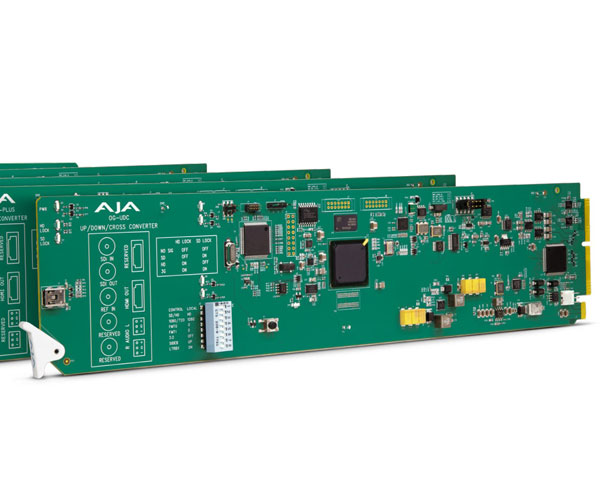 AJA Video Systems has unveiled five new openGear-compatible video and audio rack cards, with support for Ross® Video DashBoard software for remote control and monitoring.
The company is also previewing a new next-generation OG-X openGear-compatible rackframe with expanded power capabilities at NAB 2018 at the AJA stand (SL2505).
Designed for use in compatible openGear 2RU frames, including AJA's OG-3 2RU frame, the new cards combine the reliability and functionality of AJA Mini-Converters with the high-density openGear architecture. New DashBoard software support provides convenient and industry-standard configuration, monitoring and control options over a PC or a local network on Windows®, macOS® or Linux.
"Our customers have been asking for functionality from our popular Mini-Converters in rackmount form factor, for higher density environments where space is at a premium," said Nick Rashby, President, AJA Video Systems. "These new openGear cards, combined with DashBoard software, deliver powerful conversions, remote configuration and control."
New models include:
OG-3G-AMA: 3G-SDI Analog Audio Embedder/Disembedder
An eight-channel analog audio embedder/disembedder, OG-3G-AMA supports 3G-SDI input and output up to 1080p 60, and automatically detects and configures to the input video standard. It uses 3-pin terminal block connectors that can be set to perform audio input or output functionality. Analog audio levels and audio embedding/disembedding are selectable, with embedding/disembedding on a channel pair basis to pass 3G-SDI input audio or embed input analog audio from 3-pin terminal block connectors.
OG-UDC: 3G-SDI Up, Down, Cross-Converter
OG-UDC is a 10-bit broadcast quality up, down, cross-converter that bridges HD and SD video resolutions. It provides 3G-SDI input and output, HDMI output and two 3-pin terminal block connectors for balanced analog audio outputs.
OG-4K2HD: 4K/UltraHD-SDI to 3G-SDI Down-Converter
OG-4K2HD accepts four 3G-SDIs as a 4K/UltraHD input and downconverts to HD on both 3G-SDI and HDMI outputs simultaneously, using AJA's high-quality scaling for cost-effective monitoring and conversion. Live 3G-SDI and HDMI outputs facilitate pristine HD images for set monitoring or live broadcasts. 4K2HD supports conversion of HFR 4K inputs at 50/60fps to HD outputs at 50/60fps. Configuration options allow HD images to be extracted from the 4K input for a 1:1 pixel image for 4K focus checks on HD displays.
OG-Hi5-4K-Plus: 4K/Ultra 3G-SDI to HDMI 2.0 Converter
OG-Hi5-4K-Plus offers 3G-SDI to HDMI 2.0 conversion, supporting HFR up to 60p for 4K/UltraHD. It provides pristine image fidelity from professional 4K HFR devices when monitoring to HDMI 2.0 displays. OG-Hi5-4K-Plus generates HDR metadata in accordance with HDMI v2.0a/CTA-861.3. The new card offers a simple monitoring connection from 4K devices from quad 3G-SDI or dual 3G-SDI to HDMI 2.0 displays, with two-sample interleave (2SI) or square division (Quadrant) source mapping. 
OG-HA5-4K: HDMI to 4K/Ultra 3G-SDI Converter
Featuring four 3G-SDI outputs, OG-HA5-4K allows high quality conversion of HDMI video to 4K 3G-SDI, for professional workflow integration from DSLRs, mirrorless cameras, action cameras, or prosumer 4K video cameras.
www.aja.com
Top Related Stories
Click here for the latest broadcast news stories.