Broadcast News
05/04/2018
TVI Upgrades Studio Intercom Capabilities With Riedel Artist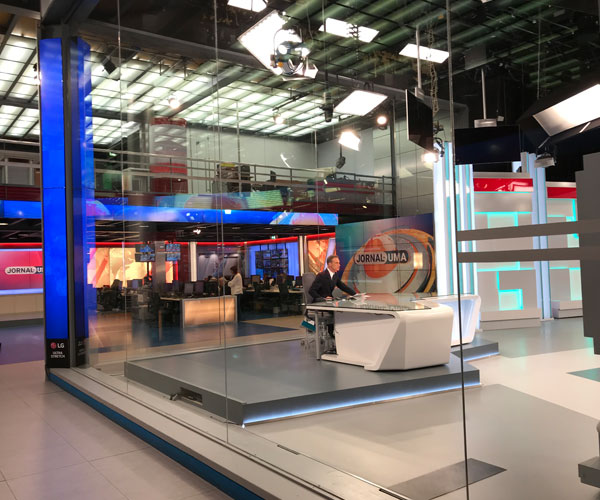 As Portugal's leading commercial broadcaster and most-watched television network, TVI offers live news and entertainment programming on a daily basis, as well as live coverage of many different sports including football, roller hockey, and handball. TVI recently underwent a large-scale modernization of its broadcast facilities to better support these and other live productions.
High on the broadcaster's list of upgrades was a replacement for a legacy analog intercom system that could meet several key requirements. The new intercom would need to work with a pre-existing conferencing system, and it would need to have deep AES/MADI integration. TVI was also looking to reduce the complexity of the intercom system and the amount of gear required. After a thorough market research process in which all major intercom players were considered, TVI chose the Artist digital matrix intercom system from Riedel Communications.
As an advanced communications platform, Artist is a highly modular solution that creates a decentralized infrastructure not just for intercom, but also for the distribution of both analog and digital audio and data signals. The Artist system's dual optical fiber ring technology enables a single large, full-summing, non-blocking matrix with the ability to support unlimited cross-points within or between the different nodes. Supporting up to 128 intercom ports per matrix frame, Artist allows a high degree of decentralization of the entire matrix in a very cost-effective manner. For instance, matrix frames can be located near the intercom stations of a specific studio or production facility, saving a considerable amount of wiring and installation costs. 
"Riedel really understood what we wanted and helped us to squeeze everything possible out of the company's Artist system," said Carlos Gomes, head of technical operations at TVI. "Working closely with Riedel and the company's local integrator, AvanTools, we've implemented a truly elegant intercom solution — a Ferrari of a system — built on equipment known for its performance and reliability."
The new Artist intercom system is enabling TVI Portugal to take on sophisticated communications in support of its national news, sports, and entertainment programming. Easily managed by a small team at TVI, the Artist system has been installed as part of a facility-wide modernization program and operates seamlessly with the existing conference system to allow for communications across three fiber-connected studios on site and via IFB connections to different external locations.
Artist is deployed across TVI studios dedicated to news, virtual production, and entertainment, and the three areas are linked by centrally and dynamically managed IFBs and mix-minuses with 2x39 simultaneous direct inputs from three different consoles (direct outs and mix minus) being used to create feeds. Working with this Artist setup, TVI staff in both audio and master control can take advantage of time-saving features including presets that recall snapshots of frequently used system configurations. Artist not only simplifies management of fiber lines between the studios but also serves as an audio router, equipped with convenient automation capabilities, for the 48 VoiP lines that facilitate guest commentary and live call-in contributors to TVI news programs.
TVI put the Artist to its first major test for coverage of Portugal's national elections, a huge show incorporating 37 concurrent IFBs to different points in the country. As it expands its channel offerings in Portugal and beyond, the broadcaster plans to continue modernizing and upgrading its communications capabilities with further deployments of Riedel gear.
This article is also available in the April edition of Broadcast Film & Video.
www.riedel.net
Top Related Stories
Click here for the latest broadcast news stories.