Broadcast News
07/03/2018
Riedel's Artist System Used For Portugal TV Network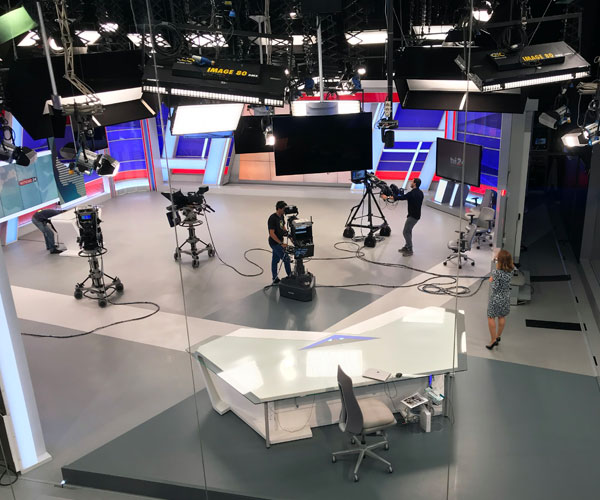 TVI Portugal has took advantage of Riedel's Artist digital matrix intercom system to enhance its programming.
Riedel's Communications Artist has been installed to help across national news, sports, and entertainment, in a complete modern revamp of the TV station.
The new system operates seamlessly with an existing conference system to allow for communications across three fiber-connected studios on site and via IFB connections to different external locations.
"Riedel really understood what we wanted and helped us to squeeze everything possible out of the company's Artist system," said Carlos Gomes, Head of Technical Operations at TVI. "Working closely with Riedel and the company's local integrator, AvanTools, we've implemented a truly elegant intercom solution — a Ferrari of a system — built on equipment known for its performance and reliability."
TVI offers several types of programme daily, including live news and live sport coverage. Following market research TVI decided on the Artist intercom system to work alongside its recently modernised broadcast facilities for such live programmes.
The Riedel system is deployed across TVI studios dedicated to news, virtual production, and entertainment, and the three areas are linked by centrally and dynamically managed IFBs and mix-minuses with 2x39 simultaneous direct inputs from three different consoles (direct outs and mix minus) being used to create feeds. Working with the Artist setup, TVI staff in both audio and master control can take advantage of time-saving features including presets that recall snapshots of frequently used system configurations. Artist not only simplifies management of fiber lines between the studios but also serves as an audio router, equipped with convenient automation capabilities, for the 48 VoiP lines that facilitate guest commentary and live call-in contributors to TVI news programs.
TVI previously put the Artist system to its first test for coverage of Portugal's national elections, a huge show incorporating 37 concurrent IFBs to different points in the country. As it expands its channel offerings in Portugal and beyond, the broadcaster plans to continue modernising and upgrading its communications capabilities with further deployments of Riedel gear.
"This project at TVI truly showcases the power and flexibility of the Artist communication ecosystem," said Maribel Roman, Sales Manager for Southern Europe. "With a client who knows exactly what they want and Riedel technical staff and integration partners who are intimately familiar with the capabilities of the platform, almost anything is possible."
www.riedel.net
Top Related Stories
Click here for the latest broadcast news stories.