Broadcast News
07/03/2018
StreamGuys And Digigram Collaborate For US And Canada Market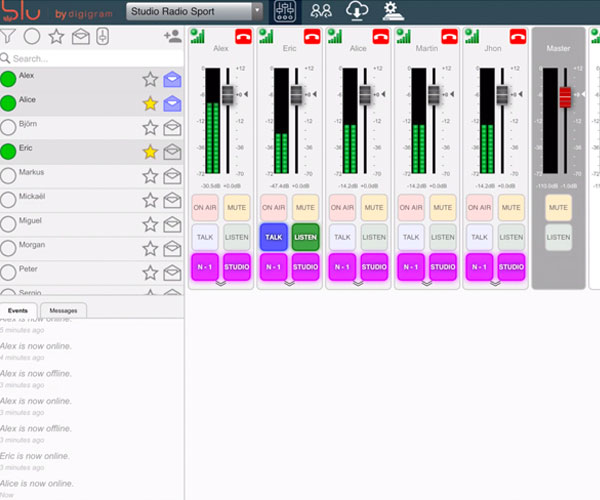 A partnership has been announced between StreamGuys and Digigram in order to bring audio contribution services to a North American audience.
Digigram's blu Live audio contribution service will be brought across to the US and Canada as a joint offering on StreamGuys' cloud infrastructure.
Digigram, an audio innovations developer, and StreamGuys, a SaaS-based streaming solutions provider, are to demonstrate the benefits of this venture at NAB 2018.
blu Live is a cloud-based solution for real-time, end-to-end management of audio content contribution from journalists, expert voice talent and remote presenters, streamlining live contribution from any Internet-connected source to a professional broadcast studio. Combining a cloud SaaS application with professional-grade audio interface hardware at the receiving endpoint, blu Live makes it easy for studios to securely establish and switch between several simultaneous, high-quality bidirectional communications links with remote contributors via a browser-based virtual mixing workspace.
The partnership brings blu Live to radio broadcasters and content producers in the U.S. and Canada for the first time, following Digigram's successful launch of the solution in Europe last year. blu Live is be offered directly by StreamGuys and through authorized Digigram resellers, while StreamGuys' highly-acclaimed customer service team is to provide front-line technical support for the solution to users.  
blu Live is to run on StreamGuys' broadcast-grade cloud infrastructure, with services hosted and operated in StreamGuys' global data centers. StreamGuys' proven infrastructure was built and optimized specifically to meet the 24/7 reliability and performance needs of broadcasters and premium media organizations, making it an ideal platform for the innovative remote contribution solution.
"We are thrilled to partner with Digigram to bring blu Live to the U.S. and Canadian markets," said Kiriki Delany, President, StreamGuys. "blu Live takes the traditional concepts of remote broadcast contribution to a whole new level of functionality and flexibility, simplifying workflows today while helping customers move towards a fully virtualized studio of the future. We continue to team up with leading innovators, deploying their applications on our broadcast-grade cloud, and our partnership with Digigram is a great fit for both of our companies and our customers."  
"In addition to having a proven technical infrastructure, StreamGuys deeply understands the needs of the broadcast market and has a respected name in the radio industry," said Jérémie Weber, CEO, Digigram. "They have also earned a great reputation for their 24/7 support, and are the best company to operate blu Live in the United States."
www.streamguys.com
www.digigram.com
Top Related Stories
Click here for the latest broadcast news stories.