Broadcast News
06/03/2018
New Version Of Cablecast Platform To Be Unveiled At NAB 2018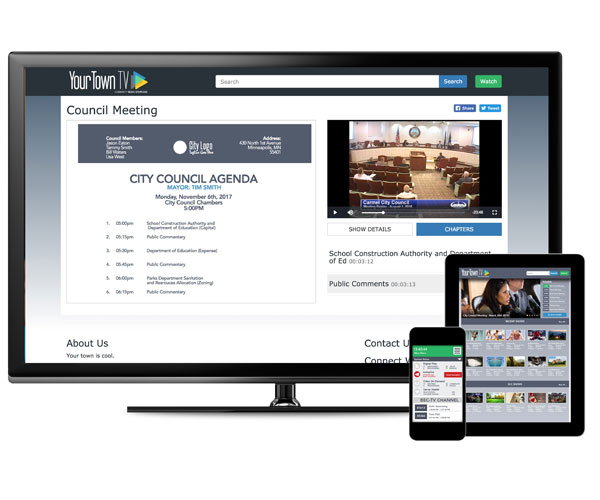 The new 6.4 version of the Cablecast Community Media platform is to be unveiled by Tightrope Media Systems at the NAB Show.
The 6.4 update improves hearing-impaired viewers' access while also enabling customers to include relevant supporting documents with their streamed videos. It is to be demonstrated in Tightrope's NAB Show suite at the Westgate Las Vegas Resort (April 9-12).
The new update builds on Cablecast's turnkey website publishing tools, which enable customers to quickly and easily deploy sophisticated, public-facing video content portals without time-consuming, specialised coding. Expanded closed caption capabilities in version 6.4 improve web and mobile video accessibility for hearing-impaired viewers. It also adds closed captions support for live streams and VOD programming.
"Extending Cablecast's closed caption support to streaming delivery helps make content as inclusively accessible to hearing-impaired audiences online as it is on cable television, and provides a valuable service to the community," said Steve Israelsky, President, Cablecast Community Media. "Furthermore, many stations we work with whose streaming efforts aren't mandated by FCC or ADA requirements have still expressed a desire to provide online closed captioning as part of their accessibility and transparency initiatives."
Cablecast 6.4 also allows community broadcasters to display a flexible array of information alongside their live streams and VOD clips, and offers greater control of how the material is presented. Most significantly for municipalities and public sector boards, documents such as agendas and minutes can be displayed next to videos of their meetings, and can be downloaded by viewers. New database fields also allow the display of custom metadata, while standard fields can now be hidden from viewers as desired.
"The online user experience is more important for community broadcasters than ever before, as an increasing segment of their audience chooses to watch their programming on the web or mobile devices rather than on cable TV," explained Mr Israelsky. "Cablecast 6.4 helps our customers take full advantage of the web medium to tailor the online viewing experience, while delivering valuable supporting materials such as meeting minutes to their viewers, in ways that are not possible with traditional television distribution."
The software's new Live Chaptering feature offers workflow improvements for operators. VOD chapter markers, which let viewers jump directly to sections of interest in VOD clips without scrubbing, can be added in real time while live video recording is in progress. This both saves time for program producers and also makes content available to web visitors sooner.
Other Cablecast demonstrations at the NAB Show are to include new features in version 6.3, like optional StreamSource direct IP input support for live remote contribution, and LiveOverlay pass-through graphics for live channel branding and crawls.
The Cablecast 6.4 upgrade is set for an April release.
www.trms.com/cablecast
Top Related Stories
Click here for the latest broadcast news stories.