Broadcast News
05/03/2018
Qligent A/V Sync Detection Software To Debut At 2018 NAB Show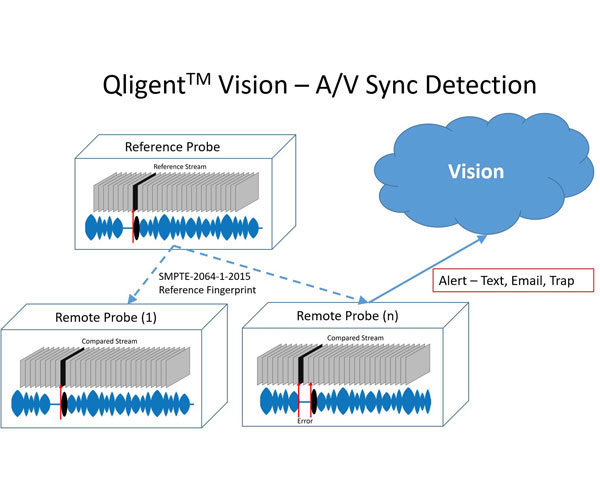 Qligent is set to unveil A/V Sync Detection, a software solution designed to detect and flag A/V Sync problems, to the North American broadcast market at the 2018 NAB Show in Las Vegas (7-12 April).
A/V Sync Detection was first unveiled at IBC in September, where particular attention was paid to its low-latency, software-defined approach in addressing lip sync problems.
It is a standard feature within Match, a software module responsible for monitoring and detecting a wide range of programmatic errors out to the last mile of the multi-platform distribution domain. They are both part of the Qligent Vision cloud-based monitoring solution, a broad toolset for monitoring and analyzing signal quality in today's complex broadcast distribution environment.
"Armed with this frame-accurate analysis, broadcasters can determine the root cause of the problem and take steps to correct it," said Ted Korte, Qligent's COO. "Without it, broadcasters would be hard pressed to know where programmatic and lip sync errors are occurring in any and all downstream channels that carry their branded content to viewers."
Korte added: "A/V Sync Detection can flag variations in video and audio synchronization down to one millisecond of accuracy. This level of accuracy is especially critical for Web and OTT streaming where latency delays can easily occur along the stream path."
A/V Sync Detection remotely compares the audio and video of downstream media to its original 'known good reference' captured prior to distribution. To determine latency audio and video whether they are in sync, Vision field probes gather key data at various points along the distribution path. This can be deployed to include content origination, satellite up/downlinks, cable head-ends, IPTV, OTT and online streaming - all the way through to the last-mile delivery point.
"Any media processing step that's done at any stage of content distribution—such as encoding, multiplexing, splicing, insertion or transcoding—can knock a program's video and audio out of sync," Korte said. "It's especially challenging today because many third-party networks can carry and deliver a program to viewers, and no one entity controls the end-to-end chain anymore."
When a problem is detected, A/V Sync Detection automatically notifies systems administrators and on-duty operators by sending texts, alarms, emails and more. It allows customization of alarm settings, and maintains a historical record with trends analysis over time.
By adding A/V Sync Detection to the Vision platform, Korte added: "We're empowering broadcasters by giving them the means of determining where the A/V sync fell apart, even if it occurred on a third-party distribution platform, so they can alert the responsible parties and restore an optimal quality of experience (QoE) for their viewers."
http://www.qligent.com/
Top Related Stories
Click here for the latest broadcast news stories.