Broadcast News
28/02/2018
Clear-Com Enables AV Production Shop To Use LQ Series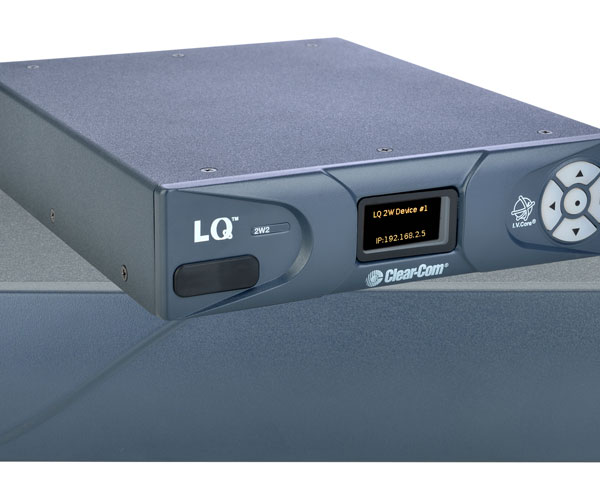 AV production company Meeting Services, Inc. (MSI) of San Diego has connected its legacy analog intercom equipment to modern IP-based intercom systems, using Clear-Com's LQ Series interfaces.
MSI is now able to do more with its legacy equipment, while creating new and creative ways to connect production staff, performers, and customers. The LQ series has been used by MSI to transport, power and assign its 2-wire and 4-wire analog wired beltpacks and camera CCU interfaces to different channels on the system on local or global networks, either standalone or combined into larger systems with MSI's HelixNet and FreeSpeak II wireless intercom systems where larger deployment is needed.
"We take the legacy analog stations, beltpacks, and camera CCUs in Front of House (FOH) production positions, and connect them into LQ Series interface boxes to carry signals over IP between them and the HelixNet located Back of House (BOH)," said Tom Bollard, MSI's Technical Director. "The LQ Series boxes provide power to the legacy units plus two-way digital IP connectivity without any of the hum, buzzes, clicks, and cross-talk associated with long runs of analog cable. It has effectively breathed new life into these old units; delivering superior audio quality and IP connectivity without us having to buy additional new equipment. With technology like the LQ Series, we can maximize our inventory and our capabilities."
The company also leveraged the LQ interfaces' newly added IP based telephone Session Initiation Protocol (SIP) capabilities to provide a telephone link between an awards ceremony they were producing and the customer's headquarters, without using analog telephone lines.
"There were no analog phone lines at the venue, so we couldn't use a standard teleconferencing system to connect it to the company offices," said Mr Bollard.
MSI deployed an LQ Series interface box with SIP capability and a HelixNet speaker station to solve the problem. Signals were then sent over IP to the client's headquarters, where they connected into its IP-based telephone system.
"The result was a teleconferencing system without a teleconferencing system being used, thanks to the flexibility of the LQ Series," added Bollard. "We even used the LQ to patch into the venue's existing 2-wire infrastructure for spotlights, plus any miscellaneous production drops that were in place."
In a third advance, MSI uses Clear-Com's Agent-IC app for patching remote staff into the HelixNet intercom on their smartphones.
"Agent-IC allows our people in the field to connect to our intercom system whenever they need to, wherever they may be," continued Bollard. "It is great for outdoor situations, such as doing productions inside large tents and other temporary structures where we don't want to run wires all over the place."  
"The LQ devices have become a cost-effective and versatile connectivity tool for rental companies to connect, extend or expand their existing intercom inventory," said Kari Eythorsson, Regional Sales Manager, Southwest USA, Clear-Com. "Because the devices are brand and platform agnostic, rental companies that own industry-standard 2-wire and/or 4-wire intercom system have invested in LQ boxes for saving time, money and resources in deploying intercom systems on both a local and global scale. We are very pleased that MSI have found ways to fully utilize the LQ capabilities."
www.clearcom.com
Top Related Stories
Click here for the latest broadcast news stories.