Broadcast News
31/01/2018
DPA 'CORE' Makes European Debut At ISE 2018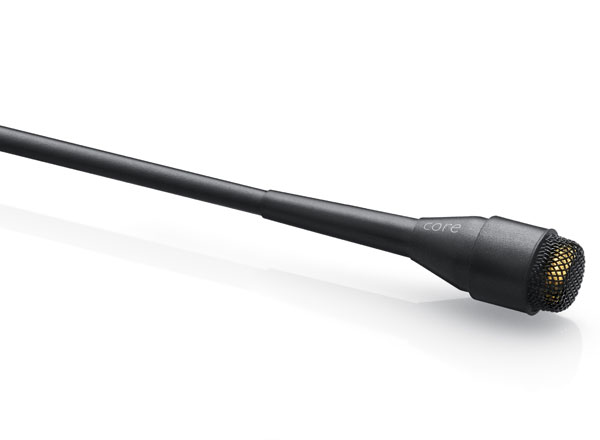 At ISE 2018, DPA Microphones will launch d:sign™, the latest product group to join its d: branding that already encompasses d:facto™, d:vote™; d:screet™; d:mension™ and d:dicate™.
Microphones and accessories within the new d:sign Installation Solutions Series are specifically targeted at the Installation and Conference markets and will be on show at Booth 7-P240 where DPA is exhibiting in conjunction with its Netherlands distributor AMPTEC.
The d:sign series combines exclusive, sleek design with high audio quality and is a good choice for installation companies that need to create a functional yet aesthetically-pleasing meeting or conference space. This series of functional yet unobtrusive tabletop, ceiling and floor stand microphones ensure outstanding sound – even in acoustically-challenging spaces. These mics guarantee extraordinarily high speech intelligibility and clarity of voice in any room or situation.
The d:sign™ Installation Solution Series is a flexible range of mics that perfectly blends elegant design and amazing audio quality. From the boundary layer mount to an assortment of gooseneck mics for tabletop, podium or ceiling placement, you can find the perfect solution for your space.
DPA Product Manager René Moerch, said: "When it comes to delivering a successful event or conference what you really need is clear, intelligible sound. DPA has a range of products that are ideally suited to conference and installation environments and by bringing them together under one generic branding, we are making it much easier for customers to identify exactly what they need. All of the products in the new d:sign range feature sleek Scandinavian design and deliver neutral and accurate sound to the smallest detail, even in the most difficult surroundings."
DPA will also use the ISE platform to give European customers their first chance to experience the new CORE by DPA amplifier technology. Launched to huge critical acclaim in 2017, CORE by DPA has already been adopted as standard by key rental companies including Terry Tew Light & Sound Hire, the UK's largest supplier of RF audio equipment to the broadcast market.
CORE by DPA lives within the company's line of miniature lavalier and headset microphones where it minimizes distortion and increases dynamic range, or workable area. They also provide water and moisture resistance through nano coating and hermetic sealing of the sensitive electronics.
DPA developed this new amplifier to create an even clearer sound from the 'highest of the highs' to the 'lowest of the lows.' The dynamic range has been expanded in all CORE miniature capsules. For example, the dynamic range of the d:screet 4061 Miniature Microphone and the d:fine 4066 Headset Microphone has been increased by 14 dB at 1% THD. CORE technology gives the microphones a more clear and open sound in the whole level range; from a whisper to a scream.
Located in the capsule of its miniature mics, CORE by DPA is currently available in the d:screet 4060, d:screet 4061, d:fine 4066 and d:fine 4088 mics. Microphones purchased with the new technology will come in CORE packaging and will have a blue label near the serial number on the cable to differentiate between these and the original versions. A very discreet laser engraving stating 'core' has been incorporated at the microphone capsule as well.
dpamicrophones.com
Top Related Stories
Click here for the latest broadcast news stories.