Broadcast News
25/01/2018
New FLX-ClockBox NTP-Locked Clock Generator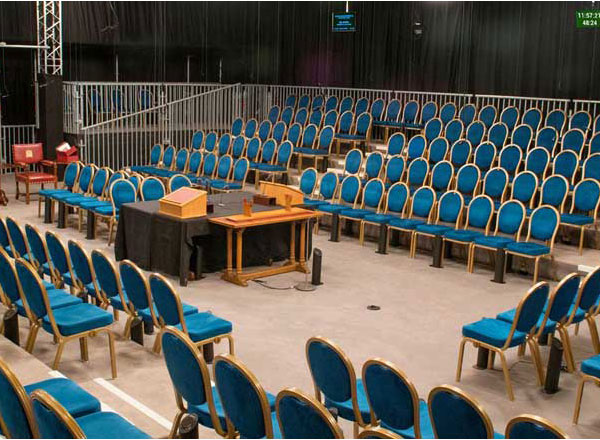 Vortex was recently involved in a top-secret week-long exercise to construct a full-size alternative House of Commons or Lords chamber to simulate what might happen if one or both chambers at Westminster suddenly became unusable due to a fire, a flood or some other emergency.
The alternative 'pop-up' chamber, designed to seat some 300 MPs or peers, was constructed in just four days and comes complete with voting lobbies, sound system, IT services, debate timing, division bell, press and broadcasting facilities, security measures, even catering. The ambitious contingency planning exercise ended with 200 volunteers drawn from parliamentary staff holding a mock sitting of the Commons or Lords in the new temporary chamber to test its full capability, including sound, recording, broadcast and votes. Part of their brief was also to construct a Grand Committee room where some meetings could take place.
In a press statement, the Parliamentary authorities said that the exercise was intended to test its planning procedures to ensure 'business continuity'. "An alternative chamber was re-created to test how well parliamentary business could continue in the event that one or both chambers in the Palace of Westminster could not be used." The basic version of the plan – involving what's described as "an austere replica" chamber – enables the relocation and continuity of Parliamentary business for an initial period of up to 10 weeks.
The Debate Timer and Division bell uses a system based on Vortex's FLX-ClockBox which is a simple stand-alone pre-programmed Clock Image generator designed to let users produce an accurate display of time information. It locks to an NTP Time Server – for example the Vortex TimeLord-Net or TimeLord-μNet or another network time source that could also be on the internet – and produces a High-Definition HDMI output for display on a low-cost monitor or TV screen. There is also the option to integrate FLX into the Broadcast Workflow as a full-HD source. At setup, users can choose from a number of pre-configured display layouts including combinations of digital clocks, analogue clocks (with hands) and multi-zone displays plus custom layouts and configurations can be supplied to special order. Within each layout, parameters can be changed such as colour, location name and for analogue clocks, the style of the clock face and hands.
In its full-blown version, an FLX system would typically incorporate a number of FLX-i Screen Interfaces and FLX-T Touch-screen tablet control surfaces that can be used together to provide a complete synchronized clock and timing system with low-cost HDMI displays being used to show the chosen screen layouts. All elements of the system are synchronized with each other via an existing network and to an NTP to provide accurate time-of-day update.
Stopwatches and Timers can each be pre-configured to count up or count down, with the possibility to preset one or more time period and to choose whether the count should stop, continue with the next period or start counting up after reaching zero. Configurable 'blocks' of time can also be added or subtracted on-the-fly if circumstances dictate, all in real-time from an FLX-t Tablet Control Surface. Clocks can be programmed for any international time zone, with the correct daylight-saving rules applied automatically. Timers and clocks can also be created which 'follow' the start of another timer to create total time or 'time started' type indications.
Each FLX-i Screen Interface has its screen layout uploaded to provide a pre-stored combinations of up to 6 Timers, Digital Clocks or Analogue Clocks that can be shown on the screen at any specific time. Pre-stored messages can also be triggered.
FLX is used to time debates in the UK Houses of Parliament and is ideal for generating studio clocks, stopwatches and timers, for use in educational scenarios, hotels and in the corporate world where it provides a cost-effective way of displaying time information, including versions that additionally provide corporate branding.
Image: Pop-up Parliament – showing House of Commons Debate Timer screen
vtx.co.uk
This article also features in the January edition of Broadcast Film & Video.
Top Related Stories
Click here for the latest broadcast news stories.