Broadcast News
05/01/2018
SmallHD Introduce 703 Bolt Wireless Monitor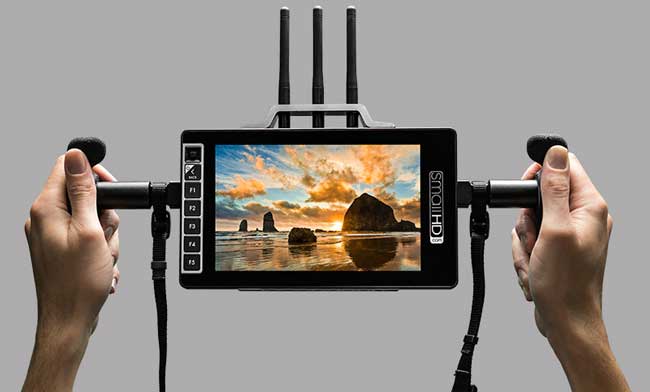 SmallHD has announced a collaboration with Teradek, resulting in the 703 Bolt wireless director's monitor.
This new monitor enables filmmakers to walk around the sound stage or location unrestricted, with a full HD device to view live takes, as well as previews and playback, with full stereo audio headphone output.
The 703 Bolt combines SmallHD's daylight viewable 7-inch, 1920x1080p display, with a built-in Teradek Bolt receiver, and is compatible with Teradek Bolt 500, 1000, or 3000 transmitters. The new system can receive and display video from as far away as 300 feet from the transmitter. Powered by a single Anton Bauer or V-mount battery pack, the system can be viewed and receive signals for more than four hours on a single 90 Watt-hour battery.
It features a milled aluminium frame with a Gorilla Glass screen, and measures 8.4" x 4.8" x 1.21" (not including antennas), and weighs just 4.35lb (2kg), including a 90 watt-hour battery and handles.
Delivered with SmallHD's OS3 operating system, the monitor can display two input sources simultaneously for A/B cam monitoring. Furthermore, the OS3's new image gallery provides the ability to quickly access and organise screen captures and other images on an SD card by showing a thumbnail preview of each image file. Images can now be previewed with or without a video signal.
If wired configuration is preferred, the monitor can handle two SDI inputs simultaneously or a SDI input and SDI output.
Wes Phillips, CEO and Co-Founder, SmallHD, said: "Our clients have long been requesting a monitor of SmallHD's caliber that's cable-free, so it made perfect sense to partner with Teradek, the industry leader in wireless technology, and so far, we are getting great feedback from our test units in the field."
The 703 Bolt is available directly from SmallHD and SmallHD authorised dealers. Director's Kits are also available, which includes monitor, handles, neck strap, battery bracket and both matte and transparent screen protectors.
www.smallhd.com
(JP/MH)
Top Related Stories
Click here for the latest broadcast news stories.