Broadcast News
02/10/2017
Quasar Science Joins Forces With Matthews Studio Equipment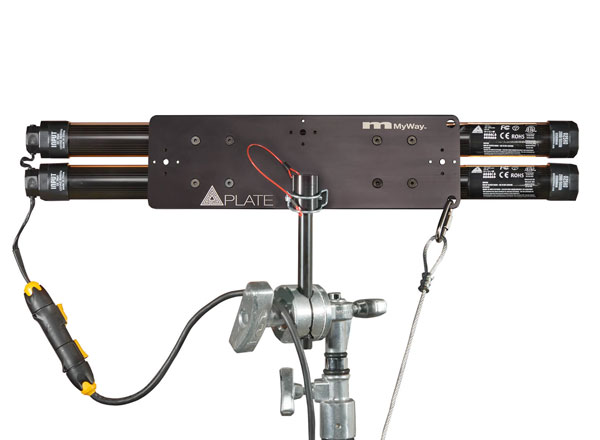 Quasar Science has joined forces with Burbank-based Matthews Studio Equipment to create the future of LED rigging support. Utilizing MSE's new MyWayGrip rigging system, the MyWayPlate Linear LED Mounting System is built for Q-LED Linear Lamps, making it simple to mount 1, 2 or 4 lamps off of a single stand. Or combine and configure multiple plates with optional MyWay adaptors.
Quasar CEO Steven Strong, said: "As people became familiar with the advantages of our linear LED lamps they began using them as singular fixtures but struggled with a simple and affordable mounting solution."
Up until now, LED tubes were often rigged using random clamps, tape, zip ties or other hardware not designed for the application. The combination of Quasar Science lighting technology and MSE grip support allows the user to rig mounting plates in any configuration they need, quickly and safely using an almost-endless variety of MSE MyWayGrip accessories.
Jay Yowler, Quasar Science co-founder and lead designer on the MyWayPlate project, said: "We wanted something that would be, above all, easy to rig." Jay, a Gaffer himself, encounters the challenges of mounting lights every day.
"Combining the plates with the MyWayGrip system makes rigging quick and safe. Traditional clamps can damage the lamps and are awkward to use. Large shell housings are too cumbersome when you simply need a couple tubes." Jay continued, "The MyWay system is extremely versatile and it shows when applied to LED lighting."
Whether a short Q15 1-foot lamp or the super long 8-foot Q100, using anything from a simple 90-degree Baby Pin to the advanced MSE Infinity Arm, you simply snap the lamps in and you're set. Articulating light couldn't get any easier.
MyWayPlate Linear LED mounting packages come in single (holds one lamp), double (holds two lamps) and quad (holds four lamps). The package also includes MyWayPlate + 6" MyWayBabyPin and MyWay Receiver. Pricing ranges from $99.99 to $129.99.
quasarscience.com
Top Related Stories
Click here for the latest broadcast news stories.